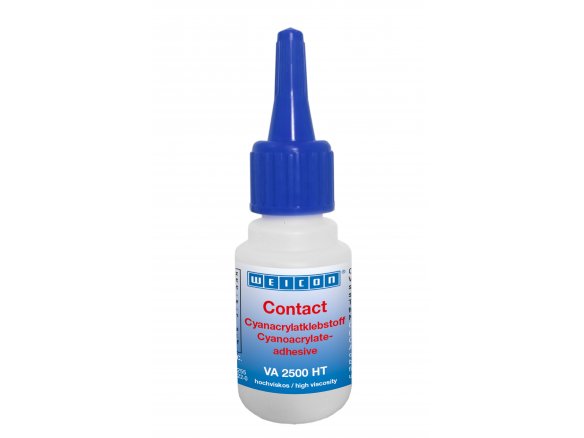 ethyl cyanoacrylate adhesive, sets colourlessly, begins adhering after approx. 25 - 100 seconds
Description
Hazard warnings
The VA 2500 HT is a high viscosity contact adhesive that retains residual elasticity when cured and is therefore especially suitable for bonding rubbers and rubber to metal. It is highly temperature resistant (up to 135 °C) and impact resistant. Bonding of very elastic rubber (e.g. latex) should be done by applying single dots of the adhesive because if it is applied in a line that line will break as a result of the expansion of the individual pieces and this will make the bond wrinkly (even if the bond of the material remains firm).
In order to apply glues that come in large bottles or tubes with large openings in more precise amounts, syringes and dosing dispensers are very often employed. The blunt applicator needle is especially good for use as an attachment on super glue bottles.
Danger, Ethyl-2-cyanacrylat 50 - 100%, (VOC-Gehalt = 0,0 %), Skin Irrit. 2, Eye Irrit. 2, STOT SE 3
Hazard warnings
H315: Causes skin irritation.
H319: Causes serious eye irritation.
H335: May cause respiratory irritation.
Safety instructions
P102: Keep out of reach of children.
P261: Avoid breathing dust / fume / gas / mist / vapours / spray.
P264: Wash … thoroughly after handling.
P271: Use only outdoors or in a well-ventilated area.
P280: Wear protective gloves / protective clothing / eye protection / face protection.
P302+P352: IF ON SKIN: Wash with plenty of water / …
P304+P340: IF INHALED: Remove person to fresh air and keep comfortable for breathing.
P305+P351+P338: IF IN EYES: Rinse cautiously with water for several minutes. Remove contact lenses, if present and easy to do. Continue rinsing.
P312: Call a POISON CENTER / doctor / … if you feel unwell.
P332+P313: If skin irritation occurs: Get medical advice / attention.
P337+P313: If eye irritation persists: Get medical advice / attention.
P338: Remove contact lenses, if present and easy to do. Continue rinsing.
P362+P364: Take off contaminated clothing and wash it before reuse.
P403+P233: Store in a well-ventilated place. Keep container tightly closed.
P405: Store locked up.
P501: Dispose of contents / container to …
Downloads
Weicon super glue VA 2500 HT, bottle 20 g