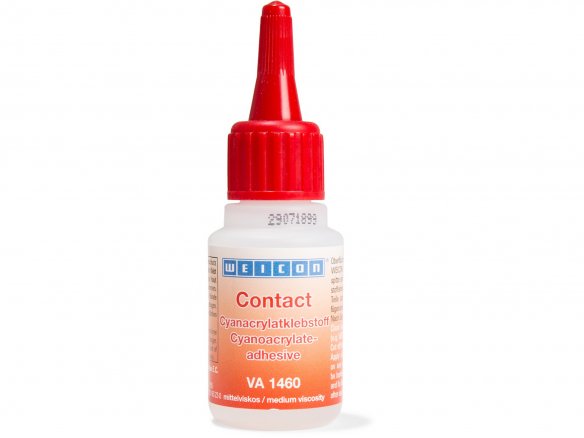 alkoxy cyanoacrylate adhesive, low viscosity, weak smelling, sets colourlessly, begins adhering after approx. 10 - 150 seconds, hazard warning: Xi irritant
This weakly blooming contact cyanoacrylate adhesive has a low level odour and the white precipitate that so often develops at the bond joint when bonding transparent plastics with standard super glues only occurs in a much smaller amount. The bonds made with this adhesive are much less sensitive when exposed to moisture. This adhesive, however, does have a somewhat slower reaction time.
In order to apply glues that come in large bottles or tubes with large openings in more precise amounts, SYRINGES and DOSING DISPENSERS are very often employed. The blunt applicator needle is especially good for use as an attachment on super glue bottles.
Weicon super glue VA 1460, low bloom bottle 20 g