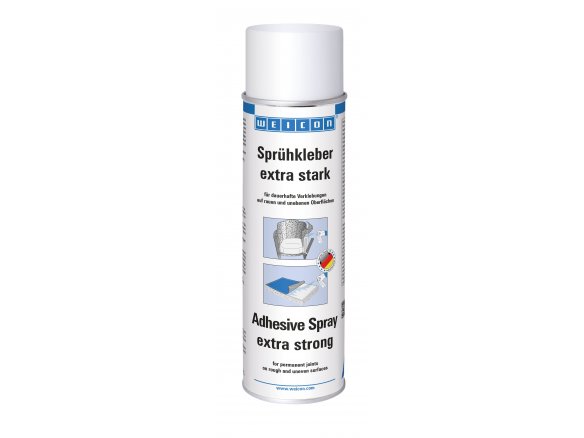 for durable and permanent joints; adhesive based on synthetic elastomers (rubber), adjustable spray pattern, cream coloured, NOT suitable for polystyrene foam, open time (working time) 45 minutes maximum
Description
Hazard warnings
This, the strongest of the Weicon adhesive sprays, is for permanent and highly durable bonding work, especially when the job involves raw, somewhat uneven surfaces. This Weicon adhesive spray, extra strong, is designed for gluing thick textiles like felt, artificial leather or carpeting. It can also be used on soft foams (but NOT rigid foams like polystyrene foam – it eats out craters!), rubber (also foam rubber), leather as well as wood and metal. Its compatibility with individual plastics, especially those that come in thin sheets, should be tested before proceeding further.
The coat resulting from spraying this adhesive will be somewhat thicker than "normal" spray adhesives because it foams up when applied. But this is also the reason that this adhesive works so well on uneven surfaces. Note that its spray pattern is somewhat more spotty and less even than hairspray or PHOTOMOUNT.
By turning the spray head you can continuously adjust the amount of adhesive being released (small, medium, large amounts). The spray comes out of the nozzle in a fan shape and when landing forms a 15 mm thick linear pattern. This makes it easy to quickly and accurately apply it to larger surface areas.
In comparison to the adhesive sprays from 3M, the Weicon sprays are less expensive and have a longer open time (working time), which for many jobs can be a real advantage while for others it might be a negative.
Danger, Aceton 25 - 49,99, Butan 3 - 9,99, Ethylacetat 10 - 19,99, Propan 10 - 24,99, Naphtha (Erdöl), mit Wasserstoff 20 - 24,99, (VOC-Gehalt/Wert = 93 % / 651 g/l), Aerosol 1, Skin Irrit. 2, Eye Irrit. 2, STOT SE 3, Aquatic Chronic 3
Hazard warnings
H222: Extremely flammable aerosol.
H229: Pressurised container: May burst if heated.
H315: Causes skin irritation.
H319: Causes serious eye irritation.
H336: May cause drowsiness or dizziness.
H412: Harmful to aquatic life with long lasting effects.
Safety instructions
P102: Keep out of reach of children.
P210: Keep away from heat, hot surfaces, sparks, open flames and other ignition sources. No smoking.
P211: Do not spray on an open flame or other ignition source.
P251: Do not pierce or burn, aven after use.
P261: Avoid breathing dust / fume / gas / mist / vapours / spray.
P264: Wash … thoroughly after handling.
P271: Use only outdoors or in a well-ventilated area.
P273: Avoid release to the environment.
P280: Wear protective gloves / protective clothing / eye protection / face protection.
P302+P352: IF ON SKIN: Wash with plenty of water / …
P304+P340: IF INHALED: Remove person to fresh air and keep comfortable for breathing.
P305+P351+P338: IF IN EYES: Rinse cautiously with water for several minutes. Remove contact lenses, if present and easy to do. Continue rinsing.
P312: Call a POISON CENTER / doctor / … if you feel unwell.
P332+P313: If skin irritation occurs: Get medical advice / attention.
P337+P313: If eye irritation persists: Get medical advice / attention.
P362: Take off contaminated clothing.
P403+P235: Store in a well-ventilated place. Keep cool.
P405: Store locked up.
P410+P412: Protect from sunlight. Do not expose to temperatures exceeding 50°C / 122°F.
P501: Dispose of contents / container to …
Downloads
Weicon spray adhesive, extra strong, can 500 ml