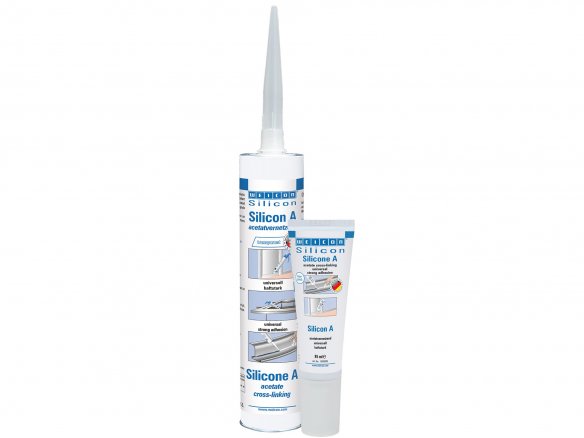 single component adhesive and sealing compound, transparent, hardens at room temperature with practically no shrinkage, temperature resistant from -50 °C to +180 °C (short term to 260 °C)
Applications: Weicon silicone is the elastic universal adhesive and sealing agent which will adhere to practically all surfaces: aluminium and steel, glass, glass fabric and ceramic, most duroplastic and thermoplastic plastics, wood, and many more. It is used for elastic bonds, coating, impregnation or for electric insulation but also for making models, moulds or casts.
Attributes: Permanently elastic silicone is compression proof, UV resistant and chemically resistant against oil and fuel, sea-water, thinned acids and salts and cleaning agents. Silicone is aging resistant and adheres without becoming hard or brittle even in the face of temperature swings; it can even be exposed to temperatures up to 260 °C for short periods. Weicon silicone is Room Temperature Vulcanizing (RTV) which means that it cures at room temperature with almost no shrinkage.
Treatment: Silicone is applied directly from the tube or by means of a CARTRIDGE GUN onto the suitable bonding points. It can be smoothed out with a moistened finger. The bonds can be put under load after a few hours.
Weicon silicone
2 Variants