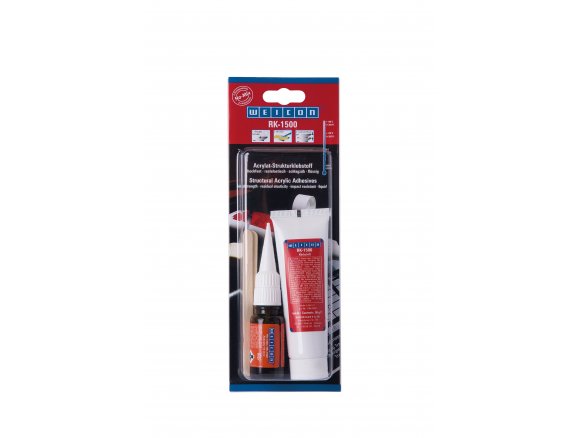 two component methacrylate-based reaction adhesive, high strength adhesion, residual elasticity, utilized with the "no mix process" (no mixing!), transparent, colourless, temperature resistant from -40 °C to +130 °C (short term to +180 °C)
Description
Hazard warnings
Attributes: Weicon RK-1500 is a fast curing (at room temperature) two component reactive adhesive which is based on methacrylate and is suitable for two-dimensional bonds. This adhesive has residual elasticity when cured. The curing process begins as soon as the adhesive is joined to a surface that has been moistened with the activator. Surfaces that have been coated with the activator can be glued for up to 30 days without having to worry that the reactivity of the activator will decline. This adhesive will fill gaps up to 0.8 mm (when both sides have the activator applied to them). After 5 minutes it is already strong enough to resist being pulled apart. After 24 hours the extremely high-strength final bond has been achieved.
Applications: The RK-1500 can be used to bond practically all metals (coated ones as well), most plastics (except PP, PE, and Teflon), wooden materials, ceramics, glass and stone. Note: this adhesive cannot be used on rubber!
Treatment: The prerequisite for flawless bonds is a clean and dry surface. Greater degrees of adhesive strength can be achieved by pre-treating a surface, e.g. roughing it up. The activator should be thinly applied with a brush on one of the adherends where it will evaporate after about 5 minutes. In the case of smooth plastic and metal surfaces, about 30 grams per sq. metre will be required; for porous surfaces up to 150 grams per sq. metre will be necessary. The honey-like adhesive glue component should be applied to the second adherend surface. After that, the pieces should be joined, positioned and affixed with a small amount of pressure (e.g. with a hand). The curing (polymerization) begins when the adhesive comes into contact with the activator (fairly secure after 5 minutes). In the case of bonds up to 0.4 mm, application of the activator to one side is sufficient; for larger bonds, up to a maximum of 0.8 mm, the applicator must be applied to both sides.
Danger, Methyl-methacrylat 30 - 60, Methacrylsäure 3 - 7, 2,2'-[(4-Methylphenyl) imino]bisethanol 1 - 3, (VOC-Gehalt = 0,0 %), Butanon 60 - 99,9, Dicyclohexylphthalat 7 - 13, Dibenzoylperoxid 7 - 13, Flam. Liq. 2, Skin Irrit. 2, Eye Dam. 1, Skin Sens. 1, STOT SE 3, Eye Irrit. 2, Repr. 2, Aquatic Acute 1
Hazard warnings
H225: Highly flammable liquid and vapour.
H315: Causes skin irritation.
H317: May cause an allergic skin reaction.
H318: Causes serious eye damage. (not needed beside H314)
H335: May cause respiratory irritation.
H319: Causes serious eye irritation.
H336: May cause drowsiness or dizziness.
H361FD: Kann vermutlich die Fruchtbarkeit beeinträchtigen. Kann vermutlich das Kind im Mutterleib schädigen.
H400: Very toxic to aquatic life.
Safety instructions
P102: Keep out of reach of children.
P210: Keep away from heat, hot surfaces, sparks, open flames and other ignition sources. No smoking.
P233: Keep container tightly closed.
P243: Take action to prevent static discharges.
P261: Avoid breathing dust / fume / gas / mist / vapours / spray.
P264: Wash … thoroughly after handling.
P271: Use only outdoors or in a well-ventilated area.
P272: Contaminated work clothing should not be allowed out of the workplace.
P280: Wear protective gloves / protective clothing / eye protection / face protection.
P302+P352: IF ON SKIN: Wash with plenty of water / …
P303+P361+P353: IF ON SKIN (or hair): Take off immediately all contaminated clothing. Rinse skin with water [or shower].
P304+P340: IF INHALED: Remove person to fresh air and keep comfortable for breathing.
P305+P351+P338: IF IN EYES: Rinse cautiously with water for several minutes. Remove contact lenses, if present and easy to do. Continue rinsing.
P310: Immediately call a POISON CENTER / doctor / …
P312: Call a POISON CENTER / doctor / … if you feel unwell.
P332+P313: If skin irritation occurs: Get medical advice / attention.
P333+P313: If skin irritation or rash occurs: Get medical advice / attention.
P353: Rinse skin with water [or shower].
P362: Take off contaminated clothing.
P363: Wash contaminated clothing before reuse.
P370+P378: In case of fire: Use … to extinguish.
P403+P233: Store in a well-ventilated place. Keep container tightly closed.
P403+P235: Store in a well-ventilated place. Keep cool.
P405: Store locked up.
P501: Dispose of contents / container to …
P201: Obtain special instructions before use.
P202: Do not handle until all safety precautions have been read and understood.
P273: Avoid release to the environment.
P308+P313: IF exposed or concerned: Get medical advice / attention.
P337+P313: If eye irritation persists: Get medical advice / attention.
P391: Collect spillage.
Downloads
Weicon RK-1500 construction glue, tube, glue (50g) + glass bottle, activator (10g)