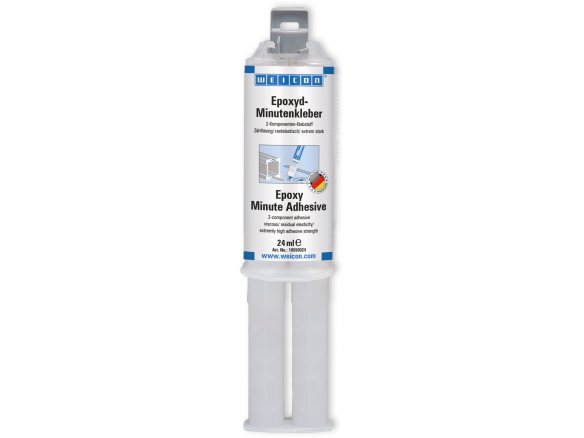 two component epoxy resin adhesive, without fillers, viscous, transparent, working life: 3 - 4 minutes, mixing ratio 1:1, temperature resistant from -50 to +80 °C
Description
Hazard warnings
This transparent epoxy minute glue is especially good for gluing metal, rubber, wood, ceramic and cement. It can also be used successfully with various plastics with high tensile strength and impact resistance. Its quick curing makes it good for fast repairs and mounting work in industry, handicrafts and model making.
This epoxy minute glue, which has the consistency of honey, has a working life of about 3 – 4 minutes and retains elasticity after curing. After curing for 35 minutes it will already hold hand tight, after one hour it can be mechanically stressed but will only reach its maximum strength after a full day. The double syringe, which serves as the container, automatically releases the components in the correct ratio. This adhesive is resistant to numerous chemicals, oil and benzine and temperature resistant between -50 to +80 °C. It can bridge over a gap of up to 2 mm!!
Danger, Reaktionsprodukt: Bisphenol-AEpichlorhydrinharze mit durchschnittlichem Molekulargewicht <= 700 / 70-90%, Bisphenol-F-Epichlorhydrinharze mit durchschnittlichem Molekulargewicht < 700 / 5-10%, (VOC-Gehalt = 0,0 %), 1,3-Bis[3-(dimethylamino)propyl]harnstoff 5 < 10, Skin Irrit. 2, Eye Irrit. 2, Skin Sens. 1, Aquatic Chronic 2, Skin Corr. 1B
Hazard warnings
H315: Causes skin irritation.
H317: May cause an allergic skin reaction.
H319: Causes serious eye irritation.
H411: Toxic to aquatic life with long lasting effects.
H314: Causes severe skin burns and eye damage.
Safety instructions
P102: Keep out of reach of children.
P261: Avoid breathing dust / fume / gas / mist / vapours / spray.
P264: Wash … thoroughly after handling.
P272: Contaminated work clothing should not be allowed out of the workplace.
P273: Avoid release to the environment.
P280: Wear protective gloves / protective clothing / eye protection / face protection.
P302+P352: IF ON SKIN: Wash with plenty of water / …
P305+P351+P338: IF IN EYES: Rinse cautiously with water for several minutes. Remove contact lenses, if present and easy to do. Continue rinsing.
P332+P313: If skin irritation occurs: Get medical advice / attention.
P337+P313: If eye irritation persists: Get medical advice / attention.
P362: Take off contaminated clothing.
P363: Wash contaminated clothing before reuse.
P391: Collect spillage.
P501: Dispose of contents / container to …
P260: Do not breathe dust / fume / gas / mist / vapours / spray.
P301+P330+P331: IF SWALLOWED: Rinse mouth. Do NOT induce vomiting.
P303+P361+P353: IF ON SKIN (or hair): Take off immediately all contaminated clothing. Rinse skin with water [or shower].
P304+P340: IF INHALED: Remove person to fresh air and keep comfortable for breathing.
P310: Immediately call a POISON CENTER / doctor / …
P405: Store locked up.
Downloads
Weicon minute epoxy, dual injector 24 ml