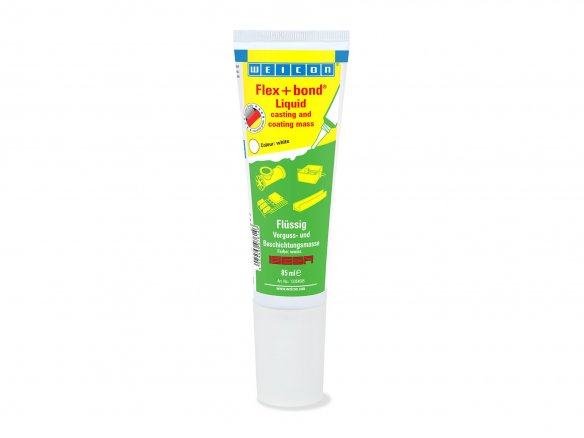 For larger adhesive gaps
Self-leveling
For filling, leveling, sealing
For non-slip coatings
Residual elasticity
Can be coated
Odorless
Free of solvents, isocyanates, and silicones
Basis

MS polymer

Characteristics

1-component, odorless, residual elasticity, Can be painted over

Color

white

Processing temperature

+5°C to +40°C

Temperature resistance

-40 to +80°C (briefly up to +120°C)

Type of curing

moisture-hardening

Max. Layer thickness

10 mm

Max. Gap bridging

0.5 mm

Max. Sealing joint width

25 mm

Volumetric change (DIN 52451)

-9%.

Safety information

solvent-, isocyanate- and silicone-free

Shelf life

12 months unopened
Flex + Bond liquid is the right choice wherever you need an adhesive and sealing compound that flows well into joints and gaps and compensates for unevenness: for rough surfaces, for filling expansion joints in floor tiles, or between two worktops in the kitchen. Even ripped bicycle saddles can be repaired with it, as the mass penetrates deeply and forms a soft connection that prevents further cracks. Weicon Flex + Bond is the perfect connector for soft materials such as solid rubber or foam rubber as well as hard materials like wood, metal, acrylic glass, and polystyrene.
The liquid casting compound levels itself out independently so that you can easily fill small imperfections or damages in surfaces or coat things with a non-slip surface. In contrast to selective contact points, the compound can be used to provide stainless steel bottoms of thermos flasks, drinking glasses or similar objects with discreet, non-slip surfaces.
The white material hardens elastically, like silicone, but is odorless and can be painted over after complete hardening.
Since Flex + Bond liquid hardens due to air humidity, you should always close the tube tightly and use it as quickly as possible. When unopened, Flex + Bond liquid remains in the tube, ready for use, for 12 months.
The chemical basis is a polymer with modified silanes (MS), which is characterized by a high adhesive strength on metal, plastic, and many other materials and is free of isocyanates and silicones.



WEICON Flex+bond elastic adhesive/sealant, white, tube, 85 ml