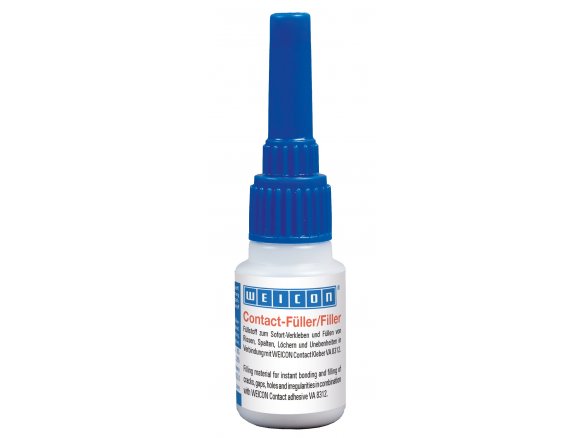 light filler, glass-hard, white
Description
Hazard warnings
This is a fine, glass-hard, white filler. Together with small drops of low-viscosity super glue (VA 8312), this material makes sturdy gap bonds, makes mistaken drill holes drillable again or fills corners and edges. It should be applied in coats whereby the first coat of adhesive is sprinkled with the filler and that coat is subsequently sprinkled with the adhesive and so on. Further treatment in the form of sanding and painting presents no problems.
Danger, Hydrocarbons, C9-C11, < 2% aromatics = 30 - 60 %, LÖSUNGSMITTELNAPHTHA (ERDÖL), MITTLERE ALIPHATISCHE = 10 - 30 %, 2, Ethylhexanic acid, zirkonium salt = < 1 %, PHTHALSÄUREANHYDRID = < 1 %, Flam. Liq. 3, Elicitation (Resp. Sens.) Elicitation (Skin Sens.) STOT SE 3 , STOT RE 1, Aquatic Chronic 3
Hazard warnings
EUH066: Repeated exposure may cause skin dryness or cracking.
EUH208: Contains (name of sensitising substance). May produce an allergic reaction. (EUH08 may be omitted if EUH204 or EUH205 has to be applied.)
H226: Flammable liquid and vapour.
H336: May cause drowsiness or dizziness.
H372: Causes damage to organs through prolonged or repeated exposure .
H412: Harmful to aquatic life with long lasting effects.
Safety instructions
P210: Keep away from heat, hot surfaces, sparks, open flames and other ignition sources. No smoking.
P240: Ground and bond container and receiving equipment.
P241: Use explosion-proof [electrical / ventilating / lighting / …] equipment.
P242: Use non-sparking tools.
P243: Take action to prevent static discharges.
P260: Do not breathe dust / fume / gas / mist / vapours / spray.
P261: Avoid breathing dust / fume / gas / mist / vapours / spray.
P264: Wash … thoroughly after handling.
P270: Do no eat, drink or smoke when using this product.
P271: Use only outdoors or in a well-ventilated area.
P273: Avoid release to the environment.
P280: Wear protective gloves / protective clothing / eye protection / face protection.
P303+P361+P353: IF ON SKIN (or hair): Take off immediately all contaminated clothing. Rinse skin with water [or shower].
P304+P340: IF INHALED: Remove person to fresh air and keep comfortable for breathing.
P312: Call a POISON CENTER / doctor / … if you feel unwell.
P314: Get medical advice / attention if you feel unwell.
P370+P378: In case of fire: Use … to extinguish.
P403+P233: Store in a well-ventilated place. Keep container tightly closed.
P403+P235: Store in a well-ventilated place. Keep cool.
P405: Store locked up.
P501: Dispose of contents / container to …
Weicon filler, bottle 30 g