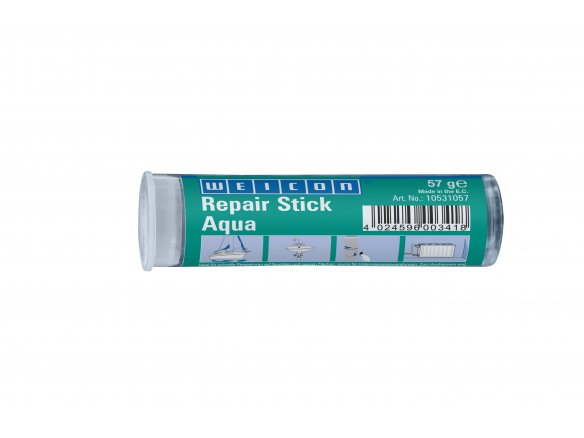 2 component epoxy resin modelling material, embedded with ceramic, cures to white colour, working life approx. 15 minutes, curing time approx. 60 minutes, temperature-resistant from -50 to +120 °C, re-closeable
Description
Hazard warnings
This stick for quick repairs and bonds on moist and wet surfaces or for underwater use has ceramic fillers. It can be worked with for a period of 15 minutes and is cured after 60 minutes.
Danger, Reaktionsprodukt: Bisphenol-AEpichlorhydrinharze mit durchschnittlichem Molekulargewicht <= 700, Phenol 0,5 < 1, (VOC-Gehalt = 0,0 %), Skin Irrit. 2, Eye Irrit. 2, Skin Sens. 1, Aquatic Chronic 3
Hazard warnings
H315: Causes skin irritation.
H317: May cause an allergic skin reaction.
H319: Causes serious eye irritation.
H412: Harmful to aquatic life with long lasting effects.
Safety instructions
P102: Keep out of reach of children.
P264: Wash … thoroughly after handling.
P272: Contaminated work clothing should not be allowed out of the workplace.
P273: Avoid release to the environment.
P280: Wear protective gloves / protective clothing / eye protection / face protection.
P302+P352: IF ON SKIN: Wash with plenty of water / …
P305+P351+P338: IF IN EYES: Rinse cautiously with water for several minutes. Remove contact lenses, if present and easy to do. Continue rinsing.
P332+P313: If skin irritation occurs: Get medical advice / attention.
P333+P313: If skin irritation or rash occurs: Get medical advice / attention.
P337+P313: If eye irritation persists: Get medical advice / attention.
P362: Take off contaminated clothing.
P363: Wash contaminated clothing before reuse.
P501: Dispose of contents / container to …
Downloads
Weicon epoxy resin Repair Stick, Aqua, plastic tube 57 g