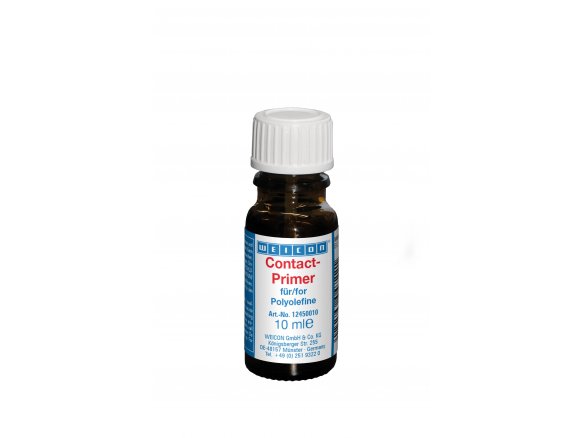 cyanoacrylate adhesive pretreatment for "unglueable" or difficult to glue plastics such as PP and PE
Description
Hazard warnings
It is well known that bonding polyolefin polyethylene and polypropylene is problematic. The contact-primer serves to make such bonds possible by preparing the surface of PP or PE plastics before a cyanoacrylate based super glue is used. Simply apply it with a BRUSH on the surface and allow it to evaporate within 5 to 10 minutes.
Danger, Kohlenwasserstoffe, C7, n-Alkane, Isoalkane, Cycloalkane, 1,8-Diazabicyclo[5.4.0]undec-7-ene, (VOC-Gehalt/Wert = 97 % / 679 g/l), Flam. Liq. 2, Skin Irrit. 2, STOT SE 3, Asp. Tox. 1, Aquatic Chronic 2
Hazard warnings
H225: Highly flammable liquid and vapour.
H304: May be fatal if swallowed and enters airways.
H315: Causes skin irritation.
H336: May cause drowsiness or dizziness.
H411: Toxic to aquatic life with long lasting effects.
Safety instructions
P102: Keep out of reach of children.
P210: Keep away from heat, hot surfaces, sparks, open flames and other ignition sources. No smoking.
P233: Keep container tightly closed.
P243: Take action to prevent static discharges.
P261: Avoid breathing dust / fume / gas / mist / vapours / spray.
P264: Wash … thoroughly after handling.
P271: Use only outdoors or in a well-ventilated area.
P273: Avoid release to the environment.
P280: Wear protective gloves / protective clothing / eye protection / face protection.
P301+P310: IF SWALLOWED: Immediately call a POISON CENTER / doctor / ….
P302+P352: IF ON SKIN: Wash with plenty of water / …
P303+P361+P353: IF ON SKIN (or hair): Take off immediately all contaminated clothing. Rinse skin with water [or shower].
P304+P340: IF INHALED: Remove person to fresh air and keep comfortable for breathing.
P312: Call a POISON CENTER / doctor / … if you feel unwell.
P331: Do NOT induce vomiting.
P332+P313: If skin irritation occurs: Get medical advice / attention.
P362: Take off contaminated clothing.
P370+P378: In case of fire: Use … to extinguish.
P403+P233: Store in a well-ventilated place. Keep container tightly closed.
P403+P235: Store in a well-ventilated place. Keep cool.
P405: Store locked up.
P501: Dispose of contents / container to …
Downloads
Weicon Contact-Primer, bottle 10 ml