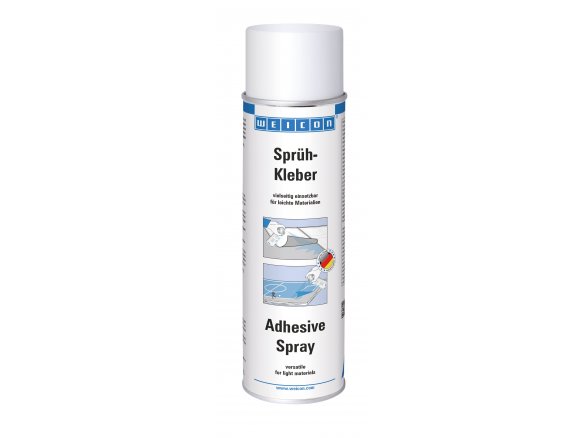 for permanent joints; adhesive based on synthetic elastomers (rubber), cream coloured, limited use on polystyrene foam possible, open time (working time) is 30 minutes maximum, hazard warning: F+ (= highly inflammable), N (= environmental hazard)
This permanent adhesive spray is an economically priced, universal glue that is designed less for working with paper and photographs than for large area bonds on lighter weight materials usually found in workshops and handicrafts. The possible materials include cardboard, wood veneer, cork, leather, various textiles, soft foams, rubber and different types of plastic films. Our experience has shown that it can also be used to bond polystyrene (rigid) foam (styrofoam, styropor) – but preliminary tests should be made on the actual material you plan on using.
Please note when working with paper that the strong version of the Weicon spray adhesive will bleed through on paper that is less than 130 g/m².
The spray pattern from this version is somewhat unpredictable, which means it is not really great for use on smaller surfaces. According to the manufacturer, the contents of the can is sufficient to coat about 4 m² (depending, of course, on the type of material(s) being bonded). In comparison to the adhesive sprays from 3M, the Weicon sprays are less expensive and have a longer open time (working time), which for many jobs can be a real advantage while for others it might be a negative.
Weicon adhesive spray, strong can 500 ml