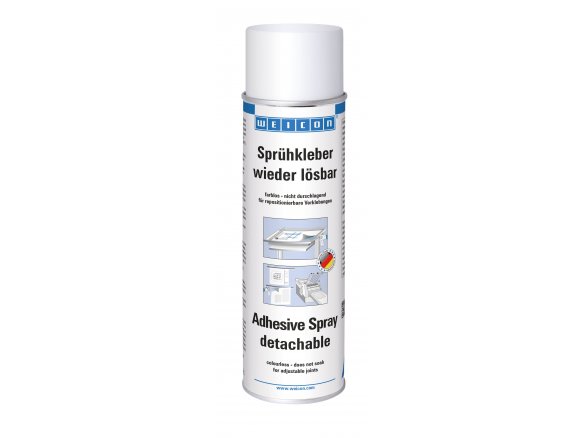 for detachable joints; adhesive based on synthetic elastomers (rubber), colourless, CANNOT be used on polystyrene foam, open time (working time) is 60 minutes maximum
Description
Hazard warnings
This economically priced Weicon spray adhesive is, on the one hand, designed for temporary bonds that can be repositioned if needed. If you apply a thin coat of the adhesive on only one of the two pieces you want to bond, it will produce a good, but nonetheless, detachable bond. If you apply a thicker coat to both of your pieces, the bond will instead be permanent after about 60 minutes, which is a rather long open time compared to other spray adhesives.
The adhesive coat will neither bleed through nor make a surface wavy, even when applied to thin paper. The detachable joint version of Weicon adhesive spray is great for affixing and bonding templates, decorations, and posters as well as for adhering photo paper to KAPA BOARD or other carrier materials made of cardboard or plastic. Despite its being clear, this spray adhesive should not be used to glue transparent materials because once it dries, the adhesive coat becomes visible. This spray adhesive is a very economical alternative to the SPRAY MOUNT or PHOTO MOUNT sprays when you are working in such fields as photography and graphics.
According to the manufacture, the contents of the can is sufficient to coat about 13 m² (depending, of course, on the type of material(s) being bonded).
Danger, Dimethylether 70 - 90, Ethylacetat 1 - 10, Heptan 1 - 10, Kohlenwasserstoffe, C7, n-Alkane, Isoalkane, Cycloalkane 1 - 10, Kohlenwasserstoffe, C6-C7, n-Alkane, Isoalkane, Cycloalkane, <5% n-Hexan 0,5 - 1, (VOC-Gehalt = 93,86 % / 643 g/l), Aerosol 1, Aquatic Chronic 2
Hazard warnings
H222: Extremely flammable aerosol.
H229: Pressurised container: May burst if heated.
H411: Toxic to aquatic life with long lasting effects.
Safety instructions
P102: Keep out of reach of children.
P210: Keep away from heat, hot surfaces, sparks, open flames and other ignition sources. No smoking.
P211: Do not spray on an open flame or other ignition source.
P251: Do not pierce or burn, aven after use.
P271: Use only outdoors or in a well-ventilated area.
P273: Avoid release to the environment.
P410+P412: Protect from sunlight. Do not expose to temperatures exceeding 50°C / 122°F.
P501: Dispose of contents / container to …
Downloads
Weicon adhesive spray for detachable joints, can 500 ml