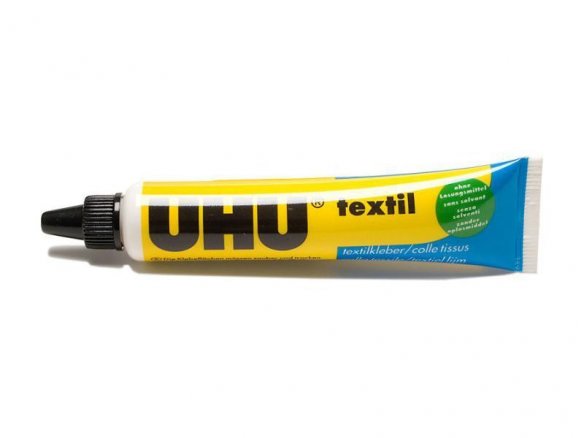 polymerization adhesive, transparent when cured, waterproof
Attributes/Applications: UHU textile glue is a special adhesive for gluing cotton, jean material, linen, felt, coconut fibre and cotton-blended fabrics to themselves or to wood or leather. It is very good for making seams on fabrics, patching holes on your favourite clothes or on decoration and upholstery fabrics. UHU textile glue should not, however, be used on silk or fabrics that contain 60% or more synthetic materials.
It is a milky paste-like glue that becomes transparent as it cures. In addition, it has good resistance to aging and light and can be thermically cross-linked – this means that its inner strength, and thereby its ability to withstand washing and cleaning agents, can be improved through the process of ironing (UHU recommends from three to five minutes at 130 to 150 °C).
Fabrics glued with this UHU product can be washed at temperatures up to 90°; it is also resistant to chemical cleaning agents (perchlorethylene basis).
Treatment: In the case of thin fabrics, a preliminary test should be made to see if the glue permeates the material. As with all gluing work, the surfaces to be glued must be clean, dry and free of grease and dust. The glue can be applied to one or both surfaces with a brush or a spatula-like tool (not too thick because more is not better). The pieces to be glued can be pressed together immediately or after a maximum airing time of five minutes. After about 30 minutes, you can begin with the ironing step (as reported, this improves the inner strength and the bond). The final adhesive strength is not achieved before a number of hours (overnight). This latter fact should be kept in mind when the glued surfaces will have to withstand a lot of strain. Excess glue that is still fresh can be removed with water; when cured, however, it is either extremely difficult or impossible to remove. Your best chance is to try to remove it mechanically.
Uhu textile glue, tube 20 g