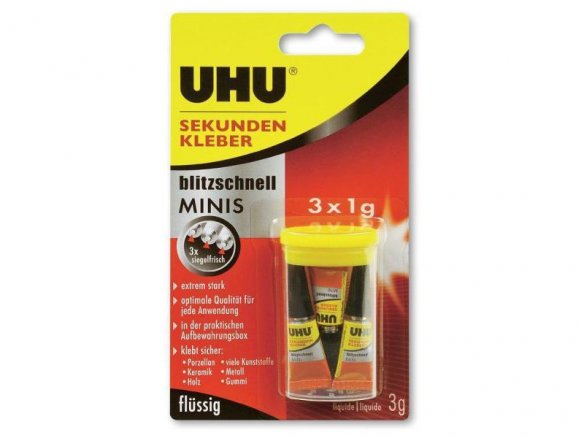 cyanacrylate glue, thin fluid, colourless when dry, plastic storage box with safety fastener
Description
Hazard warnings
The 3 tubes of UHU super glue are packed into a sturdy plastic box which makes them suitable for carrying with you during vacation or when on the go in case something needs to be quickly glued or repaired. This low-viscosity super glue bonds quickly and strongly to practically all solid and flexible materials like porcelain, ceramics, plastics (e.g. PVC, ABS, etc.), metal, rubber and wood. It should not be used on PP, PE, polystyrene foam, clothing textiles and leathers. The small 1 g tubes are optimally designed for delivering one portion of glue but can be reclosed so as to be used again if any of the glue is still left over.
In order to apply glues that come in large bottles or tubes with large openings in more precise amounts, SYRINGES and DOSING DISPENSERS are very often employed. The blunt applicator needle is especially good for use as an attachment on super glue bottles.
Danger, Ethyl-2-cyanacrylat = 70 - 100 %, (VOC-Wert (EU) = 0,00 %), Skin Irrit. 2, Eye Irrit. 2, STOT SE 3
Hazard warnings
H315: Causes skin irritation.
H319: Causes serious eye irritation.
H335: May cause respiratory irritation.
Safety instructions
P101: If medical advice is needed, have product container or label at hand.
P102: Keep out of reach of children.
P103: Read label before use.
P261: Avoid breathing dust / fume / gas / mist / vapours / spray.
P271: Use only outdoors or in a well-ventilated area.
P280: Wear protective gloves / protective clothing / eye protection / face protection.
P302+P352: IF ON SKIN: Wash with plenty of water / …
P305+P351+P338: IF IN EYES: Rinse cautiously with water for several minutes. Remove contact lenses, if present and easy to do. Continue rinsing.
P501: Dispose of contents / container to …
Uhu super glue minis 3 x 1 g, tube 1 g, 3 pieces