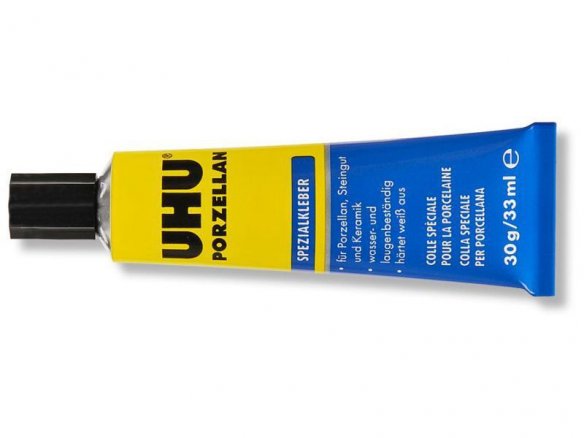 nitro resin based adhesive, white, contains solvent, temperature resistant from –30 to +80 °C
Description
Hazard warnings
Attributes/Applications: UHU porcelain glue is a very viscous repair adhesive for gluing, sealing and repairing porcelain, marble, ceramic and earthenware. It is completely cured in 24 hours (all toxic solvents will have already evaporated out) and after that time period also physiologically harmless according to UHU in its technical data sheet. UHU porcelain is waterproof even if the water is hot – a cup that has been repaired can again be filled with boiling water without fear. The bond is also resistant to mineral oil, weak acids and all conventional household cleaners.
Treatment: As with all gluing work, the surfaces to be glued must be clean, dry and free of grease and dust. The UHU porcelain glue should be applied to both surfaces to be glued and allowed to dry. Then another thin coat of the glue should be applied to one surface and the pieces immediately pressed together and allowed to cure for 24 hours. Cups, plates and the like should be washed out before using them again. Any remaining glue residue can be removed with acetone when still moist.
Danger, n-Butylacetat = 25 - 50 %, Ethanol = 5,0 - < 10 %, Ethylacetat = 1,0 - < 5,0 %, Flam. Liq. 2, STOT SE 3
Hazard warnings
H225: Highly flammable liquid and vapour.
H336: May cause drowsiness or dizziness.
Safety instructions
P101: If medical advice is needed, have product container or label at hand.
P102: Keep out of reach of children.
P103: Read label before use.
P210: Keep away from heat, hot surfaces, sparks, open flames and other ignition sources. No smoking.
P240: Ground and bond container and receiving equipment.
P261: Avoid breathing dust / fume / gas / mist / vapours / spray.
P280: Wear protective gloves / protective clothing / eye protection / face protection.
P303+P361+P353: IF ON SKIN (or hair): Take off immediately all contaminated clothing. Rinse skin with water [or shower].
P501: Dispose of contents / container to …
Uhu porcelain glue, tube 30 g