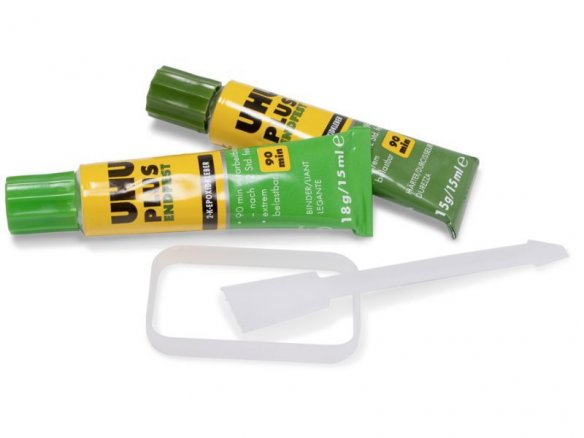 two component epoxy resin adhesive, resin (binder) is translucent white (18 g), hardener is honey-coloured (15 g); working life: 90 minutes; maximum bond after 12 hour; variable mixing ratio, temperature resistant from –40 to +100 °C
Description
Hazard warnings
Attributes/Applications: UHU plus endfest is a two component, epoxy resin based glue that has a long curing time and enables the user to make extremely strong bonds between numerous combinations of materials. UHU plus bonds are resistant to moisture, oil, thinned acids and lyes as well as many solvents. This adhesive is especially good for gluing metal, rubber, wood and plastic (primarily duroplastics) - for example, phenolic, melamine and polyester resins. It also works well, however, with mineral composites like ceramics and cement. It has proven, for example, to be very good for attaching NEODYMIUM MAGNETS for closure purposes on doors, boxes or portfolios where extremely strong bonds must be attained by relatively small areas of glue.
When cured, the glue has a transparent-yellowish colour and takes well to sanding. It attains its full adhesive strength after about twelve hours and is then very weather and aging resistant.
Treatment: As is generally the case in gluing work, the pieces to be glued must be lightly sanded and thoroughly cleaned and de-greased. In order to mix small amounts of the glue, we recommend the use of a glass plate or something similar and a wooden or metal spatula. The two components must be stirred together for as long as it takes to attain a homogenous colour. The glue can be applied to one side or, for rough surfaces, two sides with a spatula or a bristle brush; in the case of larger surface areas, you can use a palette knife or a similar tool.
By varying the amounts of the hardener, it is possible to modify the attributes the cured epoxy will have: :
100:50 parts by weight (resin to hardener) produce a harder glue that is somewhat more resistant to heat, water and chemicals.
100:80 parts by weight (resin to hardener) is the standard mixing ratio for universal application – this corresponds to two equal lengths of material from each tube and thereby a 100:100 ratio by volume).
100:120 (resin to hardener) produces a final adhesion with good flexibility and improved adhesive attributes (peel resistance) but, it should be noted, less heat and chemical resistance.
Small variations in the resin/hardener ratio produce no noticeable differences. Especially high strength and stability can be achieved when the curing is done under high temperatures between 70 and 180 degrees centigrade. The high temperatures also reduce the curing times: approx. 45 minutes at 70 °C, about 5 minutes at 150 to 180 °C.
Danger, Reaktionsprodukt: Bisphenol-A-Epichlorhydrinharze mit durchschnittlichem Molekulargewicht ≤ 700 = 70 - 100 %, Bisphenol-F-Epichlorhydrinharze MG < 700 = 5,0 - < 10 %, (VOC-Wert (EU) = 0,00 %), Aquatic Chronic 2, Skin Irrit. 2, Eye Irrit. 2, Skin Sens. 1
Hazard warnings
H315: Causes skin irritation.
H317: May cause an allergic skin reaction.
H319: Causes serious eye irritation.
H411: Toxic to aquatic life with long lasting effects.
Safety instructions
P101: If medical advice is needed, have product container or label at hand.
P102: Keep out of reach of children.
P103: Read label before use.
P261: Avoid breathing dust / fume / gas / mist / vapours / spray.
P273: Avoid release to the environment.
P280: Wear protective gloves / protective clothing / eye protection / face protection.
P302+P352: IF ON SKIN: Wash with plenty of water / …
P305+P351+P338: IF IN EYES: Rinse cautiously with water for several minutes. Remove contact lenses, if present and easy to do. Continue rinsing.
P501: Dispose of contents / container to …
Uhu plus endfest, tube resin + tube hardener 33 g