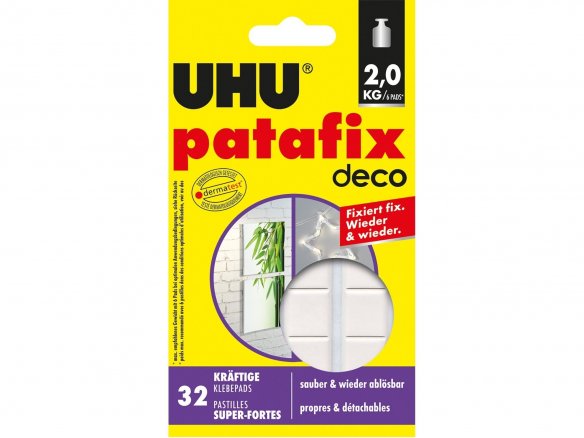 strong, removable and reusable adhesive pads
quick and clean sticking
for decorations and accessories of all kinds
holds objects up to 2kg
Size

10 x 12 mm

Colour

white

Amount

32 pieces
These adhesive pads will permanently adhere decorations as well as other types of accessories that weigh up to 2 kilograms (under optimal conditions). It will stick well on many different kinds of substrates. It is dermatologically tested to boot.
The maximum adhesive strength of 2 kilograms can really only be attained under optimal conditions, which can be summarized thus: attachment of a flat object (depth of less than 1 centimetre) onto a smooth substrate (metal) at room temperature and the use of at least 6 pads.
All intended surfaces must be clean and free of grease. To use, pull off the necessary amount of patafix deco and knead it until it is soft and roll it up into a ball shape. Divide it up and attach it to the intended object at regular intervals (depending on the size of your object from 5 to 10 cm) - pressing it firmly into place. Then press the object itself firmly onto your substrate. In order to remove the object you can carefully twist your object free or just pull it free if that suffices.
Uhu Patafix homedeco adhesive pads, package with 32 pads, extra stark