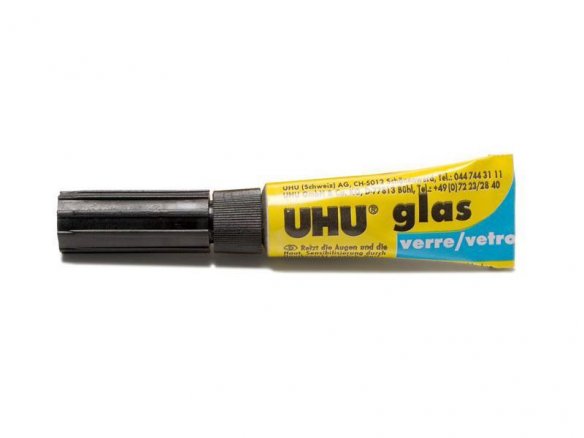 acrylic adhesive, transparent, colourless, temperature resistant from –40 to +90 °C
Description
Hazard warnings
Attributes/Applications: UHU glas is a quick curing adhesive for permanent bonding of glass to glass and glass to metal as well as for small glass repairs. It comes in particularly handy when a quick curing time is required because its fixture time is about 5 minutes in daylight conditions. As is the case with practically all adhesives, you should plan for a time span of about 24 hours in order for maximum adhesive strength to be attained. The glue is UV resistant and largely resistant to oil, weak acids and lyes.
Please note that this glue should not be used to glue lead crystal, tinted glass, composite and safety glass as well as car windows or aquariums.
Treatment: The surfaces to be glued must be clean, dry and free of grease and dust. This UHU glass glue should be applied thinly to one of the surfaces to be glued and promptly pressed together to the other, applying a small amount of pressure briefly and then allowed to cure in the daylight. Do not move the glued pieces during the curing time! Moist glue residue can be removed with acetone but, after curing, only with a knife. The tubes should be stored in a dark place because when exposed to sunlight the adhesive will tend to harden.
Danger, 2-Hydroxyethylmethacrylat = 10 - < 25 %, Hydroxypropylmethacrylat = 10 - < 25 %, 4-(1,1-DIMETHYLETHYL)CYCLOHEXYL METHACRYLAT = 5,0 - < 10 %, Acrylsäure = < 1,0 %, Skin Irrit. 2, Eye Irrit. 2, Skin Sens. 1
Hazard warnings
H315: Causes skin irritation.
H317: May cause an allergic skin reaction.
H319: Causes serious eye irritation.
Safety instructions
P101: If medical advice is needed, have product container or label at hand.
P102: Keep out of reach of children.
P103: Read label before use.
P261: Avoid breathing dust / fume / gas / mist / vapours / spray.
P280: Wear protective gloves / protective clothing / eye protection / face protection.
P302+P352: IF ON SKIN: Wash with plenty of water / …
P305+P351+P338: IF IN EYES: Rinse cautiously with water for several minutes. Remove contact lenses, if present and easy to do. Continue rinsing.
P333+P313: If skin irritation or rash occurs: Get medical advice / attention.
P501: Dispose of contents / container to …