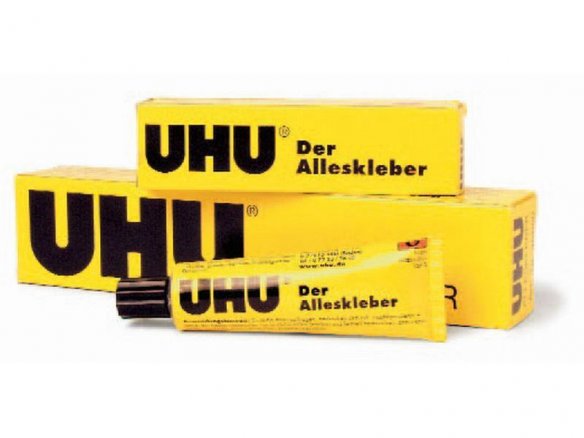 contains solvent, transparent, colourless, waterproof, aging-resistant
Description
Hazard warnings
Invented as long ago as 1932 and can still glue "everything": paper, cardboard, paperboard, textiles, leather, metal, cork and wood and all these materials can also be glued with glass, ceramics and plastics. Please note: a so-called all-purpose glue can of course not achieve the adhesive strength of an adhesive that was developed expressly for a specific material. In this respect, all-purpose glue only provides an adequate bond on many material combinations and have thereby not contributed to an increase in the trust consumers have in adhesive bonds in general.
Danger, Methylacetat = 50 - 80 %, Ethanol = 5,0 - < 10 %, Aceton = 5,0 - < 10 %, (VOC-Wert (EU) = 65,85 %), Flam. Liq. 2, STOT SE 3
Hazard warnings
H225: Highly flammable liquid and vapour.
H336: May cause drowsiness or dizziness.
Safety instructions
P101: If medical advice is needed, have product container or label at hand.
P210: Keep away from heat, hot surfaces, sparks, open flames and other ignition sources. No smoking.
P261: Avoid breathing dust / fume / gas / mist / vapours / spray.
P501: Dispose of contents / container to …
Uhu all-purpose glue
2 Variants