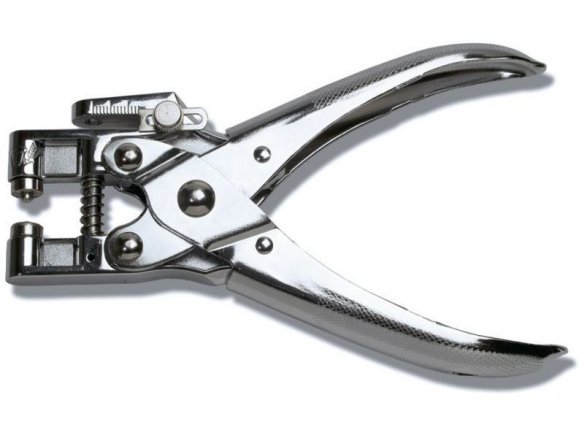 cast iron, chromed, for making holes and eyelets in one step as well as for making separate pre-holes, adjustable depth stop when making holes (maximum insertion (throat) depth: 13 mm up to the middle of the hole), hole size is 5 mm, for eyelets with an inner diameter of 4.0 mm
This hole and eyelet punch pliers in its most basic version is the right tool for those who only work with eyelets from time to time. It is also noteworthy that the handles are not as far apart from one another as those of the more professional pliers – this is, of course, great for people with small or medium sized hands. It is capable of making holes and eyelets in such materials as paper, cardboard, film, foil, textile and leather. We recommend that you make a pre-hole with the separate hole making mechanism before you try to insert the eyelets.
When using this eyelet pliers the handle with the spiral spring should be on top. The eyelet should be placed on the pliers so that the side with the rim is on the bottom and then the cylindrical end should be pushed up through your pre-punched hole. You then very firmly squeeze the two handles (levers) together and, voila, you have a neat hole which is reinforced with an eyelet and through which you can feed, for example, elastic cords or bands without causing the material to rip.
Making eyelets is easiest when using our STEEL EYELET, BRASS COLOURED version because the thickness of the material of which they consist is less than that of our STEEL EYELET, NICKEL-PLATED. In addition, the brass-coloured eyelets have slits in the metal on the cylindrical side that makes the crimping work that much easier and produces especially even and good looking results.
The depth stop on the hole punching mechanism assures that your holes will always be the same distance from the edge of your material.
Ticket and eyelet punch pliers, standard quality, l = 160 mm