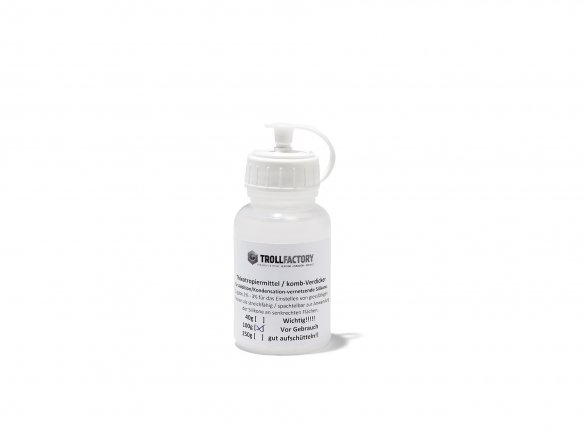 Variable silicone thickening
Thixotropic for addition and condensation
Material

Thixotropic agent for thickening addition-curing silicone

Color

translucent

Mixing ratio

1% up to a maximum 3% of the weight of the silicone

Mixing time

60 sec. (Silicone component with thixotropic agent) and 60 sec. (Mixing of the silicone components)
The Thixotropic agent silicone thickener is a thickener which can be used to thicken addition-crosslinking silicones, such as the TFC silicone rubbers Type 1, Type 2-1, or Type 3. In this way, the viscosity of a previous castable silicone can be increased and a spreadable, or even spatulable, silicone can be produced. The silicone thickener is ideal for all those who generally work with pourable, thin-walled silicones. The Thixotropic agent offers an excellent alternative for unusual projects that require highly viscous silicones; instead of buying a series of viscous silicones, you can mix the short-term, viscous silicones themselves.
The Thixotropic agent is used wherever silicones are present on vertical surfaces, e.g. walls, ceilings, or furniture. The thickener also makes it possible to dispense with the production of silicone molds, as the thickening ensures that silicone coatings are applied to larger objects, which are then supported with support molds before pouring.
This is how it works
For the purpose of silicone thickening, the Thixotropic agent is added individually to both silicone components at the same percentage. Each silicone component is mixed with the Thixotropic agent for 60 seconds. Only then are the two components combined in the weight ratio of 1:1 and further mixed for 60 seconds.
We have updated our product range. Thixotropic agent silicone thickener replaces Alpa Tix A and Alpa Tix C.
TFC thixotropic agent silicone rubber additive
2 Variants