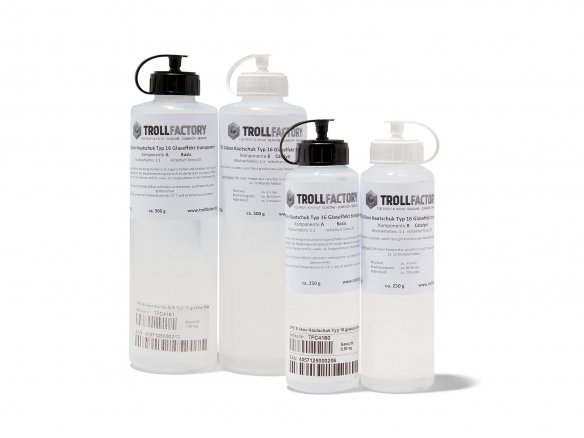 Perfect for special effects and for imitating transparent material (glass, water, ice, etc)
Easy mixing of components (1:1)
Very high optical transparency
Low mechanical hardness
Material

Addition-curing 2 component silicone rubber

Shore hardness

A 20

Color

colorless

Mixing ratio

1:1 by weight

Specific gravity

1.1

Viscosity

160 – 240 cP

Mixing time at 23°C

2 min.

Processing time at 23°C

40 – 50 min.

Curing time at 23°C

approx. 120 min.
TFC silicone rubber Type 16 is an addition-curing, two-component silicone rubber, which is mainly used in the field of special effects, as an imitation material for glass, water and ice, as well as a potting compound in electrical engineering. Corresponding objects are resistant to aging. The main application areas are where high transparency is of great importance and where mechanical properties can be dispensed with. Silicone Type 16 has only a low mechanical hardness and is therefore less suitable for mold-making.
Excellent application possibilities are the production of artificial ice, whereby splitting effects can be generated by cutting and breaking, the imitation of glass panes and glass bottles, the production of artificial water with odors, or the potting of LED lamps.
TFC silicone rubber type 16 crystal clear, set
4 Variants