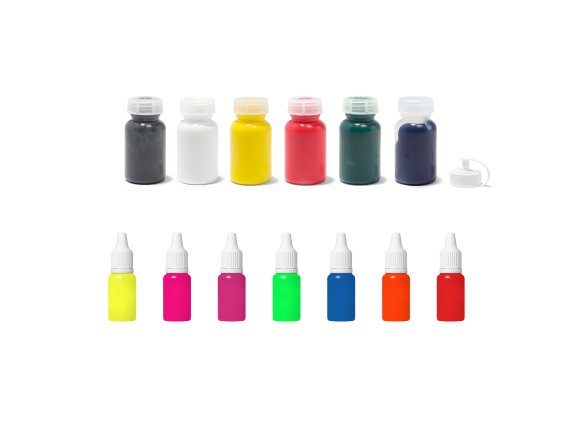 Highly pigmented
Opaque or translucent saturation (dep. on quantity added and kind of silicone)
Colors are mixable
Material

Highly pigmented special dye for dyeing silicone rubber

Colors

black, white, blue, yellow, green, red, brown
With the highly pigmented silicone color, silicone rubbers can be colored according to individual requirements. The special color can be used to make different shapes immediately distinguishable in color. When silicone rubber is not used as a molding material but as a casting material, in most cases, the dyeing is less for practical reasons than for aesthetic purposes. In both cases, the colors can be mixed before coloring and thus completely new color nuances can be created.
Regardless of whether the paint takes on a practical or aesthetic function, due to the high concentration of the pigments, only a small addition to the silicone is required. How much silicone you actually use depends on your personal intention and preference, but also on the basic color of the silicone. Silicones with a white base tone, e.g. TFC silicone rubber Type 12, are suitable for opaque. Translucent silicones such as TFC silicone rubber Type 15 or 16 remained dyed or transparent even after coloring.
We have updated our product range. TFC silicone color replaces colors for silicones.  
TFC silicone paint
6 Variants