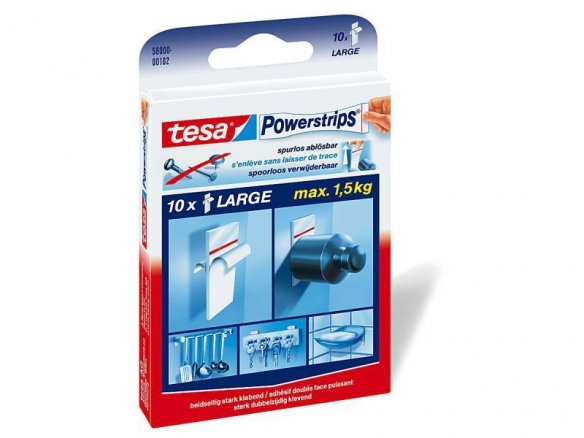 double-sided adhesive strips, opaque, white, removable without any residue, holds up to 1000 g/strip
Powerstrips Poster is an easy way to affix lightweight objects like drawings, calendars or flip charts. Powerstrips Large, on the other hand, can also be used for heavier objects. Both versions can be removed again without leaving a residue (Powerstrips Poster even from ingrain wallpaper) and without damaging the substrate by slowly pulling on the tab (which has no adhesive).
Because most of the time you will not want the tab to be visible when glued to something, the strips are best used on thin materials which can be bent when you want to remove the strips – bent out of the way so you can get hold of the tab which is hidden under the object.
Tesa Powerstrips Large, package with 10 strips, white