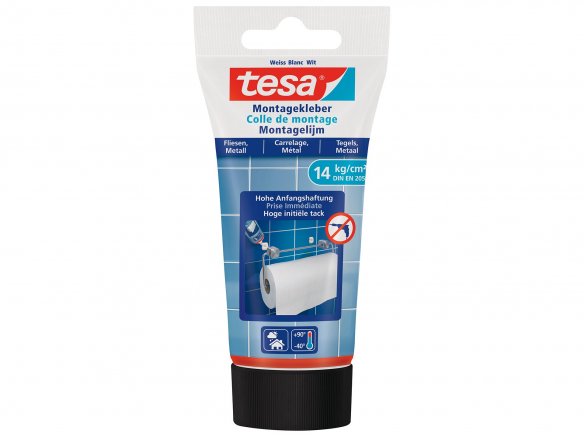 Perfect on tiles, metal, glass, wood...
Strong hold up to 14 kg/cm²
High initial adhesion
For permanent bonding
For indoors and outdoors
Overpaintable
Material

adhesive and sealing compound based on SMP (silane-modified polymer), solvent-free

Color

white

Holding force

up to 14 kg/cm² (according to DIN EN 205)

Processing temperature

+5°C to +35°C

Temperature resistance

-40°C to +90°C

Curing time

48 hours

Minimum shelf life

at room temperature, unopened, at least 12 months
If the mirror in the bathroom or the kitchen roll holder in the kitchen is to or must be installed without drilling, Tesa assembly adhesive is the suitable fastener for smooth surfaces. With the solvent-free adhesive and sealing compound, you can ideally bond flat objects permanently to solid and smooth surfaces such as tiles, metal, many plastics and wood.
Application tip: The polymer-based mounting adhesive hardens due to the absorption of air humidity. Therefore, be careful not to apply it over a wide area, but only selectively or in (wave) lines. Even if Tesa mounting adhesive has good initial adhesion, you should support heavier objects well until the adhesive has completely cured after 48 hours.
That's good to know: Tesa assembly adhesive for smooth surfaces is not suitable for coated surfaces, natural/artificial stone, asphalt, as well as PE, PP, PTFE and acrylate plastics. For the bonding of materials with rough and sensitive surfaces we offer the Tesa assembly adhesive for porous surfaces.
Tesa assembly adhesive for smooth surfaces, 110 g, white