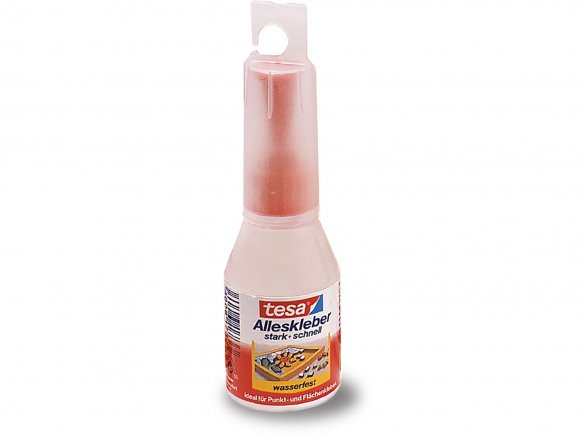 contains solvent, transparent, yellowish, waterproof, aging-resistant, rubs off of the skin, hazard warnings: Xi irritant, F highly flammable
Tesa all-purpose glue – formerly called "Technicoll" – is especially good for gluing POLYSTYRENE RIGID FOAM (e.g. STYROPOR, STYROFOAM) because it will not corrode the foam. It contains no water and is therefore especially good for making permanent bonds on paper, cardboard and paperboard. It is also great for making non-planar bonds of cardboard in model making. True to its "all-purpose" moniker, it also can be used to glue photographs, felt, cloth, leather, wood, metal, porcelain, glass and many plastics.
When cured, the glue is almost colourless, transparent, resistant to heat and cold, waterproof, lightfast, aging resistant and does not make paper wavy because it does not contain water as a solvent. It is also resistant to thinned acid and lye. If some of the glue winds up on your hands it can be easily rubbed off.
Tesa all-purpose glue, empty bottle, empty bottle for 90 g