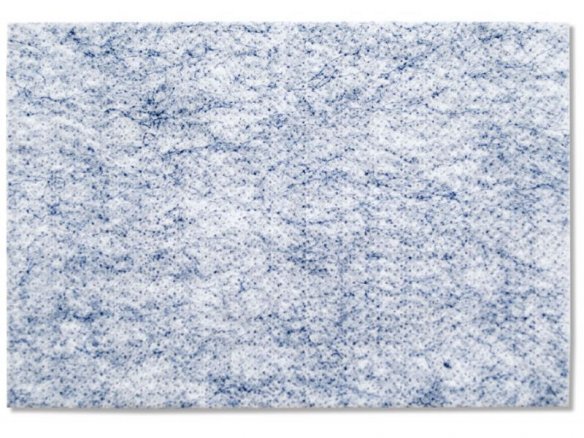 made from 100% recycled synthetic fibres (polyester and polypropylene), Color bright blue/grey, mottled with various other coloured fibres (each batch can vary a lot), sustained temperature resistance up to 90 °C (short term up to 135 °C)
Just like our SYNTHETIC NEEDLED FELT, this type of felt is also made from intensively needled synthetic fibres that, after a great deal of manipulation, finally develop into a firm slab. Another similarity is that the colour will vary from batch to batch, much in the same way as occurs with recycled products. It is true that all the different thicknesses are unstiffened but the 5.5 and 10 millimetre thick versions not only seem to be firmer because of their greater thickness profile but are also of a greater density – for this reason they are quite stiff considering that they are in fact unstiffened. Then again, all the different thicknesses are actually markedly firmer and dimensionally more stable than the really ductile and soft mottled synthetic needled felts.
Again, all the different thicknesses, including the ten-millimeter thick slab, can be cut successfully with a CUTTER – a SCISSORS can only be reasonably used for cutting up to the three-millimetre version. Gluing work should be done with SPRAY ADHESIVE or also with PATTEX.
Technical needled felt, unstiffened, mottled
2 Variants
Note
Please note that no exchange is possible in the case of products cut from rolls and the minimum order for products sold from rolls is 0.5 running metre.