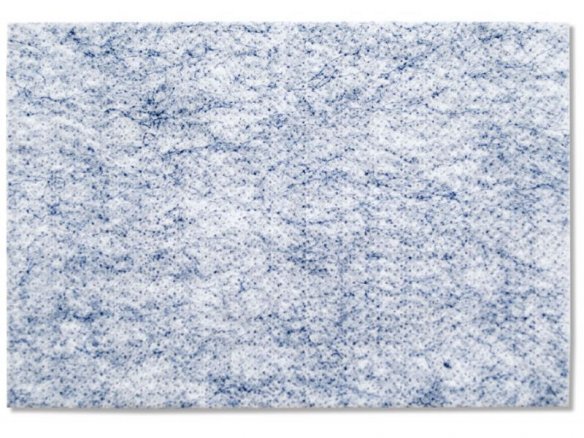 made from 100% recycled synthetic fibres (polyester and polypropylene), Color bright blue/grey, mottled with various other coloured fibres (each batch can vary a lot), sustained temperature resistance up to 90 °C (short term up to 135 °C)
Just like our SYNTHETIC NEEDLED FELT, this type of felt is also made from intensively needled synthetic fibres that, after a great deal of manipulation, finally develop into a firm slab. Another similarity is that the colour will vary from batch to batch, much in the same way as occurs with recycled products. It is true that all the different thicknesses are unstiffened but the 5.5 and 10 millimetre thick versions not only seem to be firmer because of their greater thickness profile but are also of a greater density – for this reason they are quite stiff considering that they are in fact unstiffened. Then again, all the different thicknesses are actually markedly firmer and dimensionally more stable than the really ductile and soft mottled synthetic needled felts.
Again, all the different thicknesses, including the ten-millimeter thick slab, can be cut successfully with a CUTTER – a SCISSORS can only be reasonably used for cutting up to the three-millimetre version. Gluing work should be done with SPRAY ADHESIVE or also with PATTEX.
Our needled felting is made from synthetic fibres. Because it is made completely from recycled material the colour can vary quite a bit. Our grey version can fluctuate from a brown-grey to a green-grey or even an anthracite grey.
Needle felt is different from milling or pressed felt, which utilizes the inherent nature of wool and other animal hair (because the hairs have scales on them which are directional) in a process that includes first the milling (US, fulling) and finally crushing, pounding and compressing in a wet heat environment. In contrast, needle felt is produced through a mechanical process using fibres that do not lend themselves to felting.
A bulky flbrous web is stuck through with a large number of barbed needles attached to an arbor that are then withdrawn and inserted repetitively until the material is completely "needled" (the needles grab individual fibres and drag them against their neighbors, thereby binding them). The duration of this process determines the thickness and sturdiness of the fibre´s structure which is, in general, lightweight, permeable to air and elastic. Once this felt is made, it can subsequently be treated in a number of ways in order to modify its attributes: stiffened needled felt, for example, is glaze reinforced.
The rolls of felt come on tubes with a diameter of around 70 mm and have a total diameter of about 40 cm.
| | |
| --- | --- |
| | If soft felt is glued to a flexible backing, it can be made to form practically any shape. The "Landscape" pictured was made by gluing needled felt to both sides of ALUMINIUM FORMETAL VARIUS and shaping it as required. |