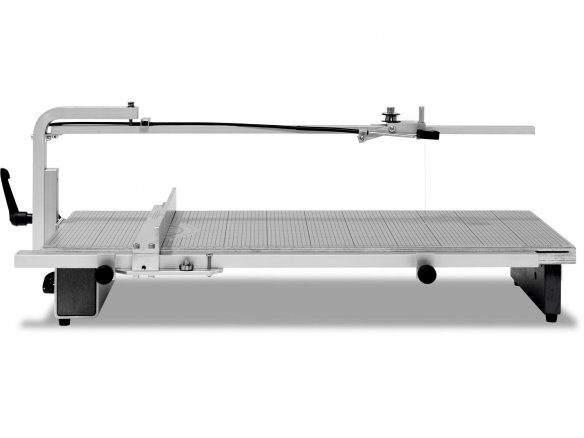 Continuously adjustable temperature control
Cooling is directly on the cutting wire
Lockable clamping lever
Guide bar with ball bearings
Worktop

multiplex, covered with anodised, chequered aluminium

Worktop dimensions

265 x 610 mm

Bracket

guide bar moves along the side on ball bearings, front and back adjustable buffers

Features

topside wire mounted on adjustable slides, bottom wire mount can be tended from the side, adjustable cutting angle, blower for cooling of cutting wire, attachment for horizontal cutting

Temperature regulation

continuous

Cutting opening width

460 mm

Cutting height

adjustability 80- 205 mm
The larger working area makes the Styrocut 3 particularly good for creating larger scaled models, terrain models or prototypes.
As far as operation, technical data and contents included with purchase, it is the same as the Styrocut 2.
The voltage of the power supply unit can be adjusted between 110 and 220 VAC so that the cutter can be used in countries with different current voltages.
Please note the information about "Thermo Cutters (Hot Wire Cutters)".
Styrocut 3 thermo cutter, incl. foot switch, protractor, steel ruler