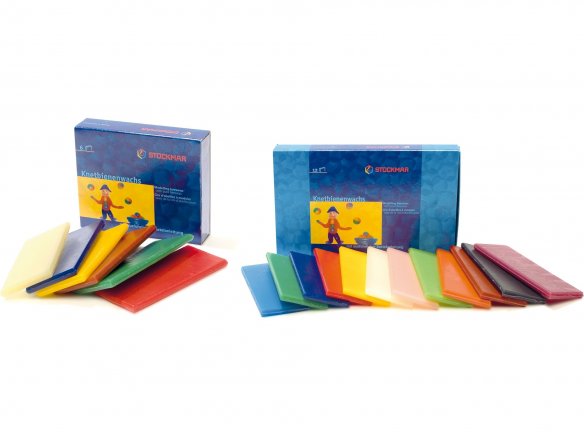 th = 6 mm, rich in pigments, made with pure beeswax, conforms to European Safety Norm EN 71 (toy safety; see info), for assorted colours in each set see info
The Stockmar modelling beeswax has a really nice aroma emanating from it - beeswax simply smells great, one reason why many people prefer it.
Of course it is also an ideal material for model making: it is clean when handling it and unquestionably hygenic. It is non-smearing, non-greasy, does not crumble and does not stain or bleed colour. In addition, its transparency leads to really pure and luminous colours.
The wax becomes soft and pliable when heated (by handling it) and then hardens again as it cools, whereby its glossiness and the intensity of its colour is maintained.
The guaranteed harmlessness of the high value material that is the sole component used in the production of Stockmar modelling beeswax compound is an especially important feature when working with children.
Stockmar products can be used in the full knowledge that they will not harm the environment or negatively affect people´s health. The Stockmar seal ("Ständige Rohstoffkontrolle" = continual monitoriing of raw materials) means that every batch of their products are inspected by an independent laboratory. Because the limit values for pollutants for writing utensils, paints and modelling putties that are set by the European EN71 safety norms are not stringent enough for the Stockmar company, it orients its own production standards to the food safety norms that are much more stringent than the toy safety norms mentioned above. In areas of concern that are not covered by the European food safety norms the Stockmar company establishes its own. Such priorities are unusual and welcome!
Set

description

colours in set
6 sheets 100 x 40 mm, color sorted, cardboard case
ivory (00), crimson (01), yellow-gold (04), green (07), bue (09), red-brown (13)
12 sheets 100 x 40 mm, color sorted, cardboard case
ivory (00), crimson (01), vermilion (02), yellow-gold (04), yellow-green (06), green (07), blue (09), ultramarine blue (10), red-violet (12), red-brown (13), black (15), pink (24)
Stockmar modelling beeswax set
2 Variants