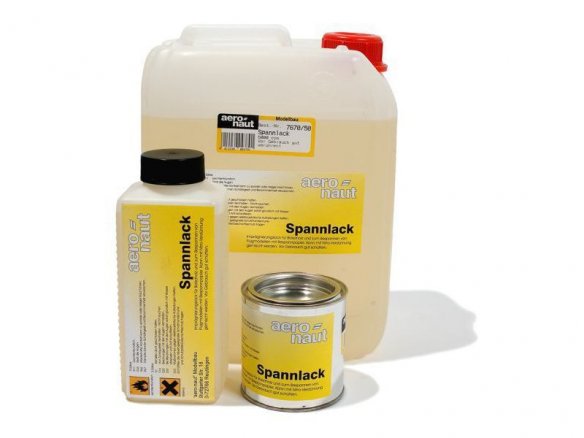 nitrocellulose lacquer, transparent, colourless
Description
Hazard warnings
Stiffening varnish is an impregnation varnish for MODELSPAN TISSUE or BALSA WOOD. It is mainly used for treating the paper used to stretch across wings in airplane model making. The varnish causes the paper to tauten over the ribbed frame whereby it is also protected against moisture and light impacts. Stiffening varnish can also be well used to cover Spanish walls with paper (for example, CHINA PAPER (WENZHOU CHINESE RICE PAPER) or MULBERRY PAPER). Before applying the Stiffening Varnish, a paper should be evenly moistened by means of a SPRAY BOTTLE or a soft brush or cloth and then allowed to dry. In the case of less absorbing paper the varnish should be applied to both sides. The spreading quality of the varnsh can be regulated by using CELLULOSE THINNER.
Danger, Ethylacetat = 45 - 50 %, n-Butylacetat = 10 - 15 %, Cellulosenitrat = 35 - 45 %, 2-Propanol = 15 - 25 %, (VOC-Gehalt = 0,0 %), entzünbare Flüssigkeiten, Flam. Liq. 2, Ätzung/Reizung der Haut, Skin Irrit. 2, Schwere Augenschädigung/-reizung, Eye Irrit. 2, Spezifische Zielorgan-Toxizität (einmalige Exposition), STOT SE 3, Spezifische Zielorgan-Toxizität (wiederholte Exposition), STOT RE 2
Hazard warnings
H225: Highly flammable liquid and vapour.
H315: Causes skin irritation.
H319: Causes serious eye irritation.
H335: May cause respiratory irritation.
H336: May cause drowsiness or dizziness.
H373: May cause damage to organs through prolonged or repeated exposure .
Safety instructions
P210: Keep away from heat, hot surfaces, sparks, open flames and other ignition sources. No smoking.
P233: Keep container tightly closed.
P241: Use explosion-proof [electrical / ventilating / lighting / …] equipment.
P261: Avoid breathing dust / fume / gas / mist / vapours / spray.
P280: Wear protective gloves / protective clothing / eye protection / face protection.
P303+P361+P353: IF ON SKIN (or hair): Take off immediately all contaminated clothing. Rinse skin with water [or shower].
P305+P351+P338: IF IN EYES: Rinse cautiously with water for several minutes. Remove contact lenses, if present and easy to do. Continue rinsing.
P312: Call a POISON CENTER / doctor / … if you feel unwell.
P337+P313: If eye irritation persists: Get medical advice / attention.
P370+P378: In case of fire: Use … to extinguish.
P403+P233: Store in a well-ventilated place. Keep container tightly closed.
Stiffening varnish, colourless
3 Variants