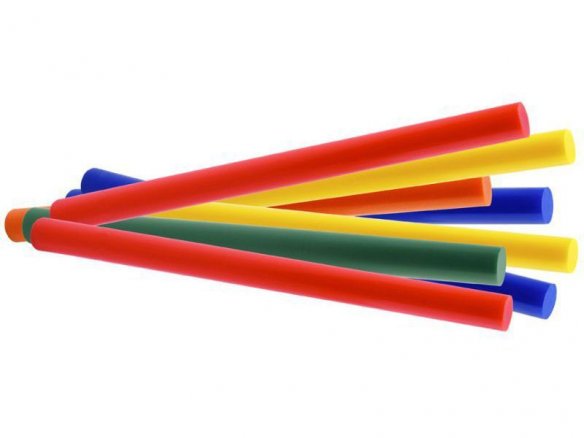 11 mm diameter, hot melt EVA (ethylene-vinyl acetate) glue, curing time about 2 minutes, package content: 2 yellow, 1 orange, 2 red, 2 blue, 1 green
These hot melt sticks are the coloured alternative to the transparent sticks that are as inconspicuous as they can be. These, however, offer the possibility that your gluing work can itself be decorative. The Steinel hot glue sticks are great for all sorts of gluing and decoration work on materials of all kinds as long as they are not temperature sensitive including paper, cardboard, wood, ceramics, metal, etc. They are not, however, recommended for outdoor applications because moisture can lead to the dissolving of the bond.
These sticks, with their application temperature of about 200 °C, can be used in standard glue guns like the GLUEMATIC 3002 or the PATTEX HOT but they are not suitable for use in hot melt glue guns designed for PUR adhesives.
Steinel standard hot-melt glue sticks Color, l = 250 mm, app. 250 g (10 pieces)