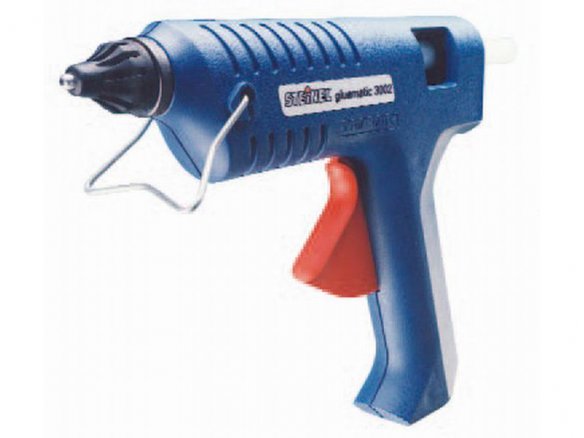 blue plastic housing with storage clip, electronically regulated, mechanical feeder, for use with ethylene vinyl acetate copolymer (EVA) based hot-melt sticks ø 11 mm up to 250 mm in length power supply: 100 - 240 V power output: 20 - 45 W heat-up time: approx. 7 minutes melting temperature: 206 ºC delivery rate: approx. 7.5 g/min guarantee: 36 months
Sturdy glue-based bonds between many materials can be quickly and easily achieved through the use of the hot glue pistol. The gun melts the glue stick (e.g. STEINEL STANDARD HOT-MELT GLUE STICK CRISTAL or ULTRA POWER) at about 200 °C and thereby creates a liquid universal glue that will cure in approximately 2 minutes. The hot-melt glue is dispensed by means of the pistol trigger and applied through the nozzle.
The fact that the glue will cool down rather quickly can present problems especially in the case of metals because metal dissipates heat relatively quickly. Using this glue on polystyrene foam is not recommended because the initial heat at application can cause the material to melt.
Steinel hot glue gun Gluematic 3002, incl. 3 glue sticks l = 200 mm