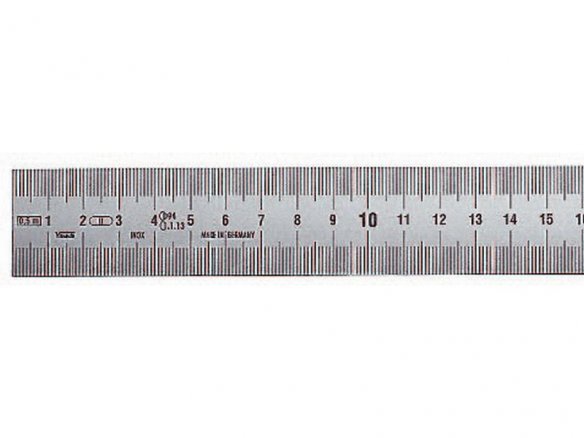 conforms to EC class II, reads from left to right, stiff construction (th = 1.0 – 1.4 mm), rust-free spring band steel, etched or engraved graduation: upper edge 1/1 mm und lower edge 1/2 mm, conversion table (inch/cc, metric threads, American fine pitch threads) on the back of ruler
This flat steel ruler has many practical uses in fields such as drawing, model making or simply in the workshop. In contrast to many other rulers, its scale starts right at the beginning – a feature that enables it to easily make depth measurements.
While the thin ruler is primarily used for measurements including those of round objects (made possible by its flexibility), the rigid broader ruler can also be used as a cutting straight edge.
Steel ruler, rust-proof, rigid
4 Variants
25 mm x 300 mm
27 mm x 450 mm
27 mm x 600 mm
35 mm x 1000 mm