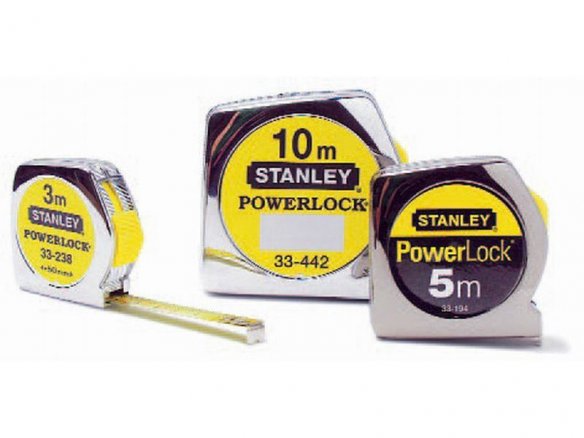 chrome coloured high-strength plastic housing, with locking brake, polymer covered band steel with mm graduation
If you hold this Stanley measuring tape in your hand you can actually feel the quality it embodies – a characteristic that should also be expected in the case of a tool that has undergone the riggers of continuous use. The tape is made of a steel strip that is coated with synthetic resin and has the resulting advantage of a long service life. The 3 metre tape can be pulled out to about 50 cm before it kinks; the 5 metre tape can extend as far as about 1.5 metre before kinking; the strong 10 metre tape stays straight for at least 2 metres and probably more.
The end hook moves to allow accurate inside and outside measurements (in the case of the 10 m tape the hook has three rivets and a spring mounted limit stop). This tape measure can be hung on a belt by means of a clip on the back and the blade lock holds the tape in place without any resulting wear and tear.
Stanley Powerlock measuring tape
3 Variants