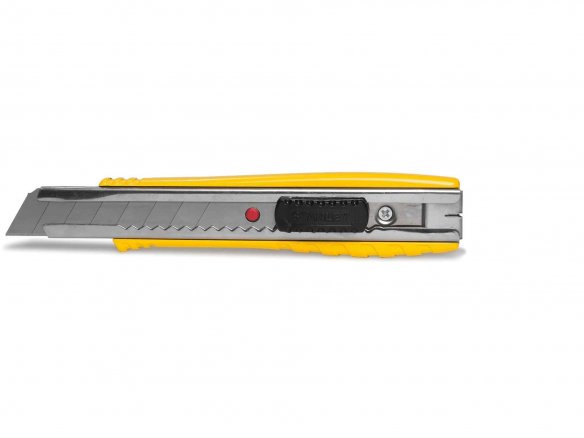 Handle

Metal handle panted yellow

Blade guide

Stainless steel

Blade carriage

Self-locking

Fastening clip

Stainless steel
This splendid utility knife with the strange name "Fat Max" has a nice thinness about it, being as it is just as wide as necessary. Apart from the blade slide, it is made completely out of metal, which means that it has a nice heft in your hand and is extremely durable as well. The spring loaded self locking mechanism, in combination with the notched feeder, is reliable in use and continues to hold the blade in position even when cutting really thick materials. The fastening clip for holding it safely in your jacket pocket can be pulled free from the blade guide (is a little resistant at first, try applying a little oil) and the groove that has been manufactured into the clip subsequently used to break off the used blade segments efficiently.
The Stanley Fatmax snap-off blades are designed for the Stanley Fatmax utility knife.
Stanley Fatmax utility knife for 18 mm blades, LARGE, incl. 1 snap-off blade