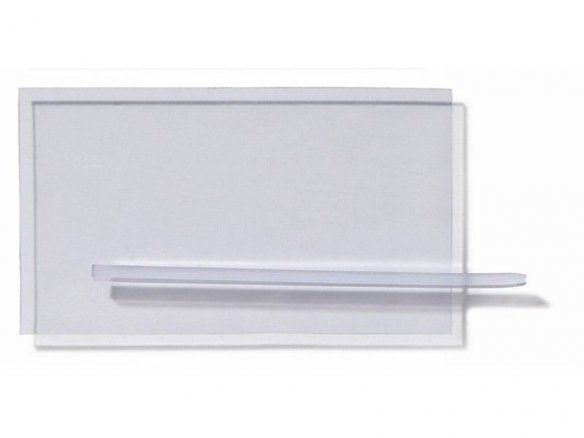 colourless (bluish), glossy/glossy, rounded edges, flexible, approx. 75 Sh-A, extremely abrasion-resistant, temperature resistant from -20 °C to +60 °C, UV stable (not permanently UV resistant), standard quality
The individual strips for the curtains that hang in refrigerated warehouses and storage facilities and serve to separate rooms of different temperatures are cut from the soft-PVC strip sheets. The material has rounded edges which allow someone to pass through them without risking injury.
The colourless version that we have on offer has, by way of identifying it (i.e. upon closer inspection and in comparison to the slightly yellowish "neutral" version) a light bluish hue which is especially noticeable around the edges.
Soft-PVC strip sheet, transparent, colourless
6 Variants
Note
Transparent soft-PVC can on delivery have a light blue colouration which is there to hinder the normal yellowing process.

The minimum order for products sold from rolls: 0.5 running metre. Please note that no exchange is possible in the case of products cut from rolls.

The shipping and handling costs for orders of whole rolls can be higher because of the extra weight. Please contact us for details.