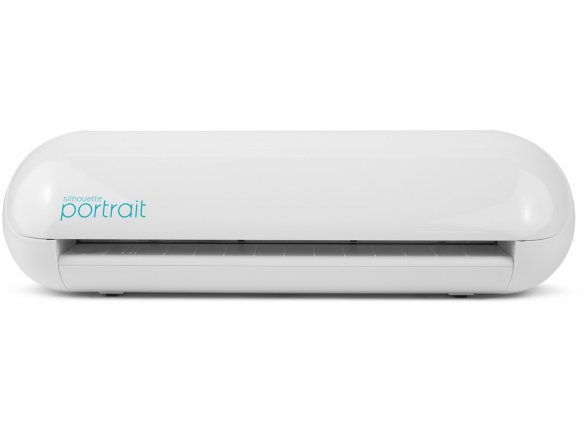 Bluetooth compatible
Sensor head for 3-point fiducial recognition
Includes Silhouette Studio Software for Windows and Mac (German)
203 mm working width
PixScan Technology - contour-accurate cutting without setting fiducial markers
Housing

plastic housing with hinged cover

Product description

stepper motor driver (drag knife), media transport by means of grit rollers, sensor head for 3-point automatic crop mark detection, interface port is high speed USB 2.0

Power supply

external mains adapter (12 W)

Weight

1.6 kg (without packaging)

Dimensions

(width x depth x height): 413 mm x 142 mm x 114 mm

Maximum cutting area

203 mm x 304.8 mm (with cutting mat), 203 mm x 3000 mm

Media width

from 50 mm to 203 mm

Maximum media thickness

0,5 mm

Admission

2 mm

Maximum cutting speed

100 mm/s

Cutting force (blade pressure)

210 g

Operating systems

Windows XP/Vista/Windows 7 or higher, MAC OS X 10.7 or higher

Alternative

after registration go to www.hobbyplotter.de for a German operating manual PDF download

Further information

Software Silhouette Studio (Mac & Win) voucher for the Silhouette Online-Store 50 motif templates in the Silhouette Studio Library

In the box

cutting plotter, knife set (blade holder with 1 blade, cutting mat (8" = 203mm) , USB cable, mains adapter and cable
The Silhouette Portrait 2 is very similar to the Silhouette Cameo 3 in terms of technical data. It has the same sophisticated and proven technology as the Portrait and even the cutting capability (cutting speed and cutting force) are identical as well. The working area of the Silhouette Cameo 3 is larger and it scores points by having additional features that facilitate the daily performance of work on the device.       
The Portrait 2 surprises with its efficiency and precision, especially in relation to its low price and small dimensions. Compared to its predecessor (Portrait 1), the cutting machine is Bluetooth compatible and has an automatic knife. Depending on the choice of material, the AutoBlade is automatically adjusted accordingly. In addition, the clearance has increased to 2 mm compared to the predecessor.
If you are a hobbyist or a semi-professional user, we can unconditionally recommend this current, improved version of this machine; this applies to both architecture students and as a small sized aid for professionals. We have sold a great number of these machines and received almost no complaints about its performance – indeed, quite the opposite: this is a top quality product line.
Attributes: On one axis of the Silhouette Portrait 2, two grit rollers have been positioned so as to precisely deliver the inserted medium into the machine. On a second axis is found the sensor driven cutting head, which navigates by virtue of the 3-point registration-mark recognition program. These registration-marks can be printed in a preliminary procedure. They are your guarantee that the contours you cut will be exactly those of the template. By the way, such a sensor driven control system is usually only found on much much more expensive machines.
The fully automatic AutoBlade is set using Silhouette Studio (plotter software) according to the material being processed. While the knife had to be manually adjusted beforehand, now this setting is easily done automatically by selecting the material in Silhouette Studio.
The service life of the blade naturally depends on the material being worked on – any designation in this regard can only be made with definite reservations. However: one blade can cut approximately 4,000 meters of adhesive film before needing to be replaced.
The PixScan Technology makes it possible to employ a camera or a scanner in order to cut a printed design true to the contour or to place any cutting lines you might require onto your material. For this work it is best to use a smartphone or a tablet. The PixScan algorhythm enables the Portrait 2 to recognize any registration marks placed on the PixScan cutting mat. PixScan is ideal for saving scanned or photographed motifs in your personal digital library as a way to transform a hand sketch into a new user-defined cutting data set (file). 
One thing should not go unmentioned: This machine produces a whole gamut of interesting sounds during operation; in short, it is extremely loud and therefore not really suitable for use in an office that is basically just one large room.
Applications: The Silhouette Portrait 2 can draw paths, cut out precise designs and perforate. These work steps can also be combined so that a shape that has been cut out can itself contain drawn, perforated and cut-out elements. As a result, there are a multiplicity of fields where it can be used such as handicrafts, model making, packaging design and prototyping. Examples include:
Cutting out scanned or, alternatively, drawn shapes and pictures after printing
Production of:
Lettering made from film in sizes from 5 to 10 mm in height (when matrix stripping (trimming) ceriphs of very small letters, you will be confronted by the limits of what you can do)
Labels or greeting cards, folded cards and business cards
Templates (stencils, sandblast films) 
Many-windowed facades in architectural model making
Cardboard silhouette figures
Templates for transferring textiles (flock coating)
Prefabricated arts-and-crafts sheets (punch-out paper) – over 200 templates with special emphasis on handicrafts for children can be downloaded for free on the Internet.
These are the materials that can be used in the machine: all paper and paperboard with grammages up to 300 g/m², thin wood veneer (e.g. Decoflex) as well as other self-adhesive and non-adhesive films. It is possible to cut thicker materials by allowing the blade to pass a number of times through the material or simply by, in the case of thicker plastic sheeting, using the blade to score the shape you want and breaking it out later by hand – these suggestions should be considered to be in the realm of experimentation.
Treatment: Just about anything that can be made on a screen and that has an outline or contour lines can be processed by the Silhouette Portrait 2 machine. A typical working procedure looks something like this: The first step is to create a template or master with the help of the software. The next step is to use an external printer to print the artwork on the material that is to be cut to shape. In doing so, the registration marks have also been printed enabling the Portrait 2 to use them for orientation during the cutting process. Finally, the medium is placed in the cutting-plotter and cut to shape.
In this step, care should be taken that materials without backing or smaller pieces of material that cannot be taken up by the rollers should first be placed on the accessory "carrier sheet" (which has a somewhat sticky surface). In the case of very thin, sensitive materials, we recommend a preliminary trial! In the case of materials with backing like, for example, self-adhesive film, this is not necessary. These cutting substrates (carrier sheets) are consumable articles that must be replaced after a certain amount of time. In place of the original carrier sheets, other films from our assortment like, for example, thin PC film, PET film or rigid PVC film can be used instead, as long as they have been provided with an adhesive coating beforehand (e.g. CREATIV MOUNT SPRAY ADHESIVE or ASLAN DOUBLE-SIDED ADHESIVE FILM DK4, REMOVABLE). The original carrier sheets do have a printed grid on them that does make the positioning of the material to be cut a lot easier but this does not seem to be important enough to justify spending additional money for the advantage.
Important info about the software: The included software "Silhouette Studio" offers a number of functions for inserting text, drawing shapes, importing pictures and creating outline data; this software, however, does not provide the same number of functional possibilities as professional programs like Illustrator or Corel Draw. There are two ways to expand your possibilities: You can upgrade the Silhouette Studio software to the "Designer Edition" (see Accessories) or you can buy a special plug-in for Windows that will allow you to operate the cutting plotter using Illustrator and Corel Draw (see Accessories). An Illustrator plug-in for Mac will become available soon ...
The included software also makes it possible to save cutting data to a SD card thereby allowing the Silhouette Cameo to function at a later time without the need of a PC.
In the following section you will find a series of charts with information about settings that are based on our own testing and experimentation. This data should only be considered as suggestions instead of hard and fast specifications.
| | | | | |
| --- | --- | --- | --- | --- |
|   | speed | thickness | knife blade depth | cutting frequency |
| Photo mounting board 300 g/m² | 3 | 33 | 5 | 1x |
| Paper/paperboard 150 g/m² | 3 | 33 | 3 | 1x |
| Paperboard CD pocket | 3 | 33 | 6 | 1x |
| X-film | 10 | 14 | 1 | 1x |
| Digital print – polyester fabric  | 3 | 28 | 5 | 1x |
| Polycarbonate, th = 0.5 mm   | 3 | 32 | 6 | 1x |
| Polystyrol th = 0,5 mm | 3 | 33 | 10 | 2x |
| Lightbox film, th = 0.24 mm | 3 | 28 | 10 | 2x |
Speed (cm/sec.)
| | | | | | | | | | | |
| --- | --- | --- | --- | --- | --- | --- | --- | --- | --- | --- |
| Setting | 1 | 2 | 3 | 4 | 5 | 6 | 7 | 8 | 9 | 10 |
| cm/sec. | 10 | 20 | 30 | 40 | 50 | 60 | 70 | 80 | 90 | 100 |
thickness(grams)
| | | | | | | | | | | | | | | | | | | | | |
| --- | --- | --- | --- | --- | --- | --- | --- | --- | --- | --- | --- | --- | --- | --- | --- | --- | --- | --- | --- | --- |
| Setting | 1 | 2 | 3 | 4 | 5 | 6 | 7 | 8 | 9 | 10 | 11 | 12 | 13 | 14 | 15 | 16 | 17 | 18 | 19 | 20 |
| gram</sq. m | 7 | 14 | 21 | 28 | 35 | 42 | 49 | 56 | 63 | 70 | 77 | 84 | 91 | 98 | 105 | 112 | 119 | 126 | 133 | 140 |
| | | | | | | | | | | | | | |
| --- | --- | --- | --- | --- | --- | --- | --- | --- | --- | --- | --- | --- | --- |
| Setting | 21 | 22 | 23 | 24 | 25 | 26 | 27 | 28 | 29 | 30 | 31 | 32 | 33 |
| gram/sq. m | 147 | 154 | 161 | 168 | 175 | 182 | 189 | 196 | 203 | 210 | 217 | 224 | 231 |
SILHOUETTE PORTRAIT 2 electronic cutting tool, cutting width 203 mm, incl. accessories