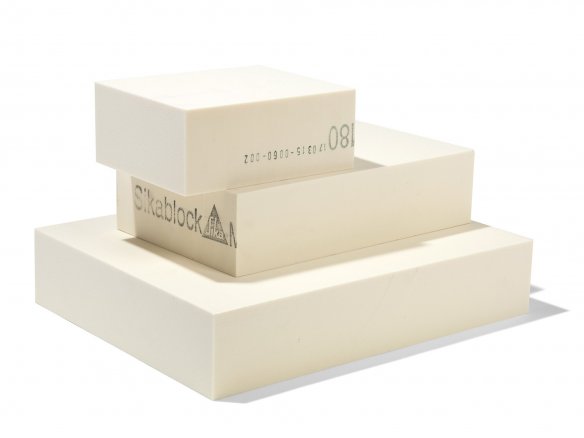 material

fine-pored polyurethane-based rigid foam

Density

80 kg/m³

Linear thermal expansion coefficient

70 x 10 -6 K -1 (DIN 53752)
Applications: PUR rigid foam M80 is the softes one and mostly used in the production of base shapes for design, styling and clay models which have relatively larger scales, as well as for form studies and trial runs on the milling machine. It is much less expensive than the denser PUR materials but its surface as a rule demands more work to achieve a nice finish.
Treatment: The low density of the PUR rigid foam M80 allows it to not only be worked on with shop machines but hand-held tools as well (sawing, rasping, filing and sanding). The surface of this material has a somewhat refractory, porous texture which means that it must be filled, primed and sanded a number of times in order to create a surface ready for the painting.
SikaBlock PUR rigid modelling foam M80
4 Variants
195 mm x 245 mm
245 mm x 395 mm
395 mm x 498 mm
1000 mm x 2000 mm
Note
not lightfast (will fade)