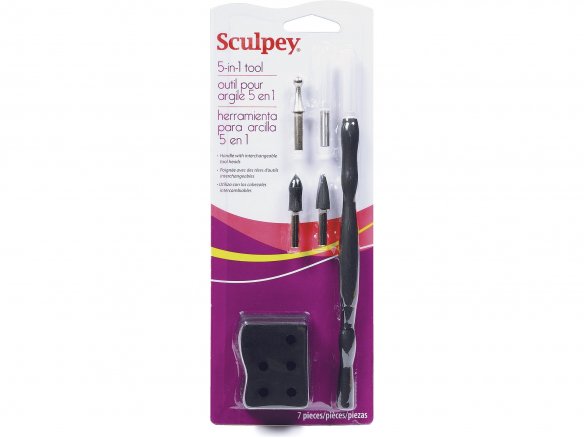 1 handle and 5 different modelling tips
handle and attachments are magnetic
Metal and hard rubber tips for filigree modelling
Space-saving storage
Product

1 magnetic tool handle, 5 interchangeable heads

Material

tool heads made of metal and hard rubber
The Sculpey 5-in-1 modelling tool kit was expressly developed for use with the popular Sculpey modelling clay. Sculpey is the clay that professionals use for making dolls, mannequins, architectural models and animation figures. The fine metal and hard rubber tool heads perform the extremely detailed work involved in such projects and were designed with the professional model making of smaller objects, figures and sculptures in mind.
The compactness of the set is a welcome space saving attribute: just one handle and a total of five tool heads allows you to do a wide variety of carving, smoothing and detailed decorative work. The different heads as well as the handle are magnetic, which makes changing the heads incredibly easy while also making it possible to store them very "economically".
When your modelling work is complete, the heads can be placed in the slots provided in the plug-in block. The block not only serves to organize the set but also to provide an overview so that you will immediately recognize it when one of your heads is missing.
The Five Tool Heads: an Overview
Scalpel: The scalpel blade is one of the sharp heads that can be used to make lines and fine details. In addition, it is also useful for cutting your clay into pieces for conditioning purposes.
Awl (pointer): This likewise sharp needle point is used to make holes as well as detailed textures and patterns.
Hard rubber cone: The cone is used for shaping and smoothing the modelling clay and for blending unseemly seams and tears.
Hard rubber chisel: The tip of the chisel can be used to form thin lines and patterns, while the rest serves to smooth the clay and blend unwanted seams.
Metal ball: Use the ball end to make indentations and other types of concave shapes. Expressive wavy or curled edges can also be created with the ball.
Get to work!
Sculpy 5 in 1 modeling tool, with magnetic tool tips