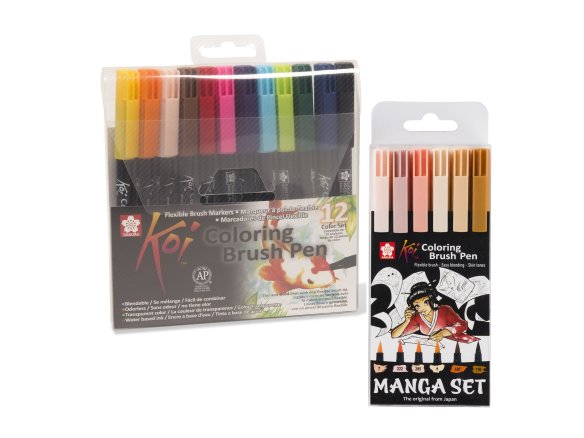 The fact that these inks can be mixed with one another means that with some practice and technical know-how you can create a huge number of other colours with these base colours. The inks can provide a watercolour look and Tombow has developed a Dual Brush Pen ABT Blender to allow you to use the inks at various levels of intensity. By using the blender and a little water and, for example, a plastic mixing palette you can premix your colours in advance or you can just mix them directly on your paper substrate after application. You are, then, able to produce either colours of different intensity and new colours altogether or blended colour gradients.
If you require particularly intense watercolour effects we highly recommend the wet-in-wet technique whereby the paper substrate is wetted with water just before you apply your ink - this will result in the colours being either dispersed in colour gradients or they will simply flow into one another.
The Sakura Koi Coloring brush marker set is ideal for colourful sketches and comics, illustations, lettering, card design and much much more!
Sakura Koi Coloring brush markers set, set of 12, colour sorted