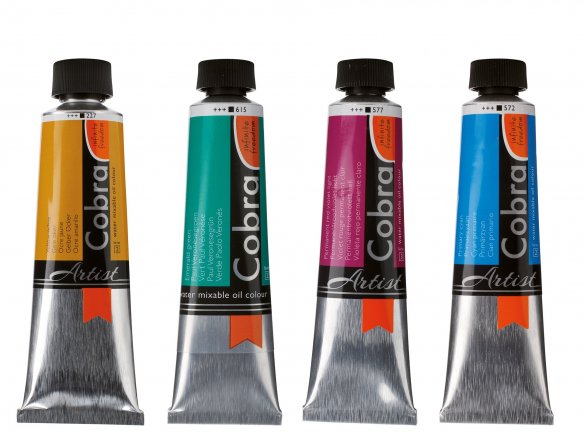 artist oil paint, pigments dispersed in modified plant-based binding agent, pasty consistency, can be thinned with water, can be both opaque or transparent when applied, uniform degree of gloss and uniform drying time for all the hues, highest degree of lightfastness (non-fading: tested according to ASTM standards), can be mixed with pure oil paints
There is no need to use a solvent when working with Cobra oil paint because both the paint and all the corresponding mediums will mix with water. This is possible because the oils have been modified so that water will not be repelled but instead will form a stable mixture of small drops of oil in water (= emulsion).
Cobra can be used for all conventional oil painting techniques (alla prima or wet-on-wet, layer over layer, etc.) up to and including glazing techniques. The result is the typical oil painting look in which the colour hues and brush strokes remain unchanged after drying. This professional quality artist paint is distinguished by its high content of finely ground pigments. All the colours are extremely lightfast (non-fading for at least 100 years under museum conditions). Half of the colours are mono-pigmented, which means that those paints have only one type of pigment and, when mixed, produce a very pure result.
This rather pasty paint can be worked with using bristle or synthetic fibre paintbrushes, palette knives or sponges. If heavily diluted, it can also be worked with using a watercolour brush. As with all oil paints, canvases that have been primered are the most suitable substrates for its application. Because it can be used without solvents, neither unpleasant odours nor unhealthy vapors will be produced with use and your painting utensils and your hands can be washed clean with soap and water.
The set of 5 contains these colours: titanium white (105), permanent light yellow (283), dark pyrrole red (345), cobalt blue (ultramarine) (512), and permanent green dark (619).
Set of 10 contains these colours: titanium white (105), permanent light yellow (283), cobalt blue (ultramarine) (512), permanent green dark (619), burnt sienna (411), yellow ochre (227, permanent light violet (577), pyrrole red (315), ivory black (701) and permanent orange (266).  This set is also available as a gift set which also has 2 flat bristle paintbrushes (size 4 and 10), a double clip-on palette cup and one 75 ml bottle of Cobra painting medium.
We recommend the six primary colours as the basic palette to use for learning the art of mixing colours: primary yellow (275), primary cyan (572), permanent yellow medium (284), primary magenta (369), pyrrole red (315) and ultramarine (504) as well as titanium white (105) and ivory black (701).
Royal Talens Water Mixable Oil Paint Cobra
103 Variants