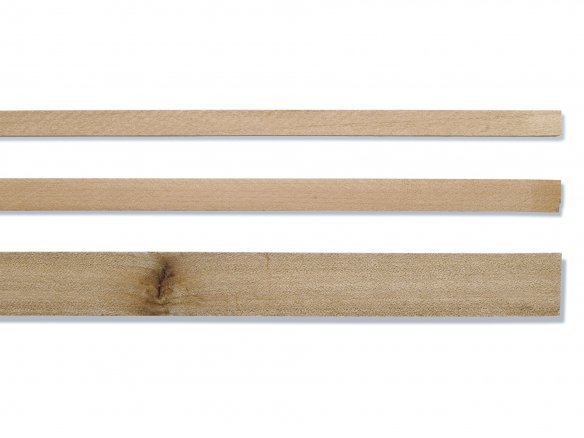 Pear tree wood strips can be worked with successfully using machines but the tools will tend to become dull fairly quickly. This fine wood takes well to gluing (to itself or also to cardboard).
These mouldings can be cut by means of a COPING SAW, a FRET SAW or a CIRCULAR TABLE SAW (ours are from the Proxxon and Kaleas companies). Gluing work can be done with either UHU HART or PONAL EXPRESS.
Straight or bent glue-laminated support beams for use in architectural models can be created out of rectangular strips by gluing them together in a mould (e.g. between nails pounded into a board) where they remain until the glue is dry. Moulding sizes that are not included in our assortment can be created by combining the cross-sections that are available.
Right-angled pear tree wood moulding strip
20 Variants
1 mm
2 mm
3 mm
4 mm
5 mm
6 mm
7 mm
10 mm
0,5 mm
1 mm
2 mm
3 mm
4 mm
5 mm
6 mm