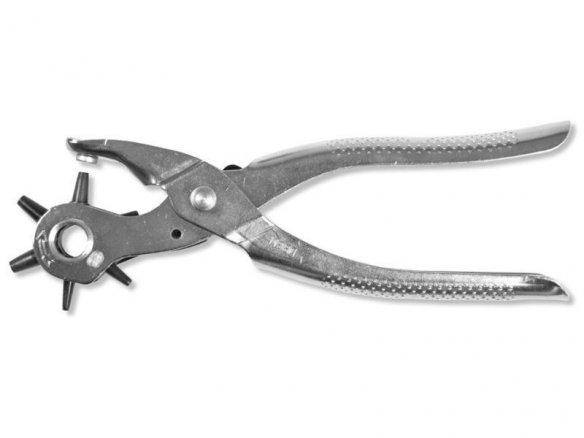 nickel-plated steel, revollving ring with 6 different hole diameters, hollow punches can be changed, locking clamp for the handles, made in Germany
This revolving punch pliers (star punch) in its most basic version is a good tool for anyone who only needs to punch holes from time to time - a tool for occasional use. It can cut holes in materials such as paper, cardboard, films, foils, textiles and leather. When used on materials like 2 mm thick grey board or a belt leather, a certain amount of finger strength is required – this is also true when trying to turn the revolving turret with the heads. There is a window on the side of the revolving ring that allows you to see the diameter of the punch head presently in use.
If you require a smaller or larger hole or, alternatively, if the cutting edges of your punch heads have become dull, the heads themselves can be changed. We carry two different HOLLOW PUNCH SETS for this purpose. A slot screwdriver or a similar tool should be used as a lever in order to push the hole punches out from the back (you reach them in the ring´s middle circle) – note that they are only pressed into their mounting holes. You could, we suppose, simply pull the punch heads out with a pliers but this has proven to be pretty difficult. Maybe you can do it, though!
Revolving punch pliers 350, nickel-plated, for hole ø 2,0/2,5/3,0/3,5/4,0/4,5 mm