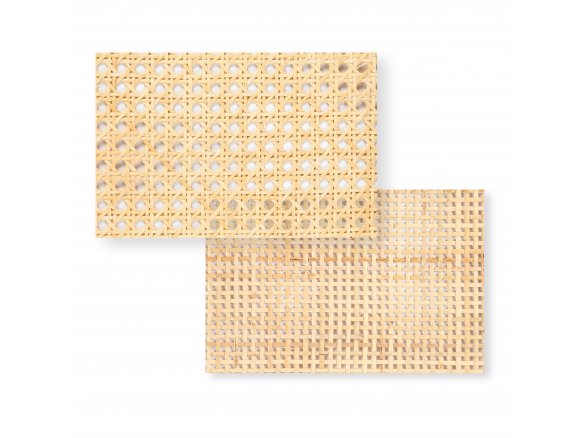 Nice natural material
For decorating and crafting
Material

braided rattan, unpainted

Delivery

rolled

Note

for decorative purposes, do not use as a chair weave
With this rattan weave in hobby quality you can, for example, manufacture lampshades, effectively reinforce light bags. or cover small frames.
In order to bring the rolled natural material flat before further processing, you simply smooth the sheet with a steam iron. Cutting is done with a sharp pair of scissors without the edges becoming frayed. You can paint the unpainted rattan with acrylic paints, stain, and with white glue (e.g., Ponal Express ) glue. Its braided structure also lends itself to embroidery. A nice material for combining and edging is e.g., SnapPap paper in leather look.
Rattan is made from the rattan palm. Since this grows extremely quickly, similar to bamboo, rattan is one of the most sustainable raw materials for furniture construction. You've probably sat many times on the "Wiener Geflecht" at the coffee house!
Rattan wickerwork natural, hobby quality
2 Variants