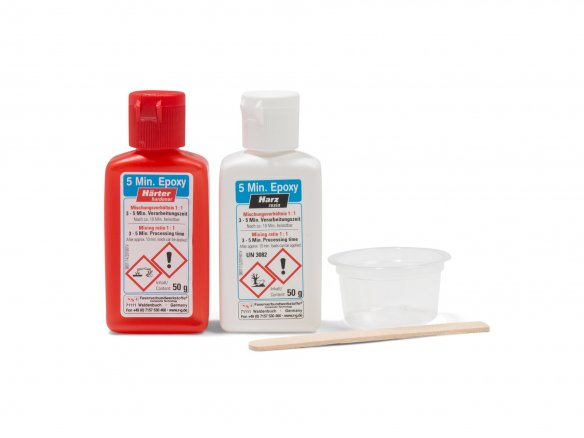 two component epoxy resin adhesive, amber colour, working life: up to 5 minutes, mixture ratios 1:1, temperature resistant from -50 bis +60 °C, hazard warnings: Xi irritant, N dangerous for the environment
In terms of its applications, the R & G 5 minute epoxy is comparable to the Weicon EPOXY MINUTE ADHESIVE. When cured, this adhesive does not become brittle but is rather hard and tough at the same time. It is resistant to numerous chemicals, oil, benzene and temperatures up to about 60 ºC. You have about 5 minutes working time with this epoxy at which point it will begin to become gel-like but can be put under stress after curing for a short 10 minutes. Once cured, this epoxy can be sanded and polished with good results.
If this adhesive is stored under +15 °C, both the resin and the hardener can crystallize. This crystallization must be gotten rid of before the adhesive is used by means of warming it in hot water (maximum 50 °C) and subsequently shaking it. This product should only be used if it is completely transparent!
R&G 5 minute epoxy two bottles 100 g (50 g each)