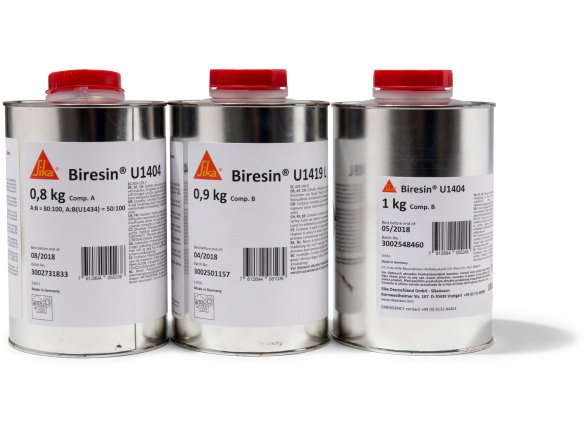 material

2 component casting resin

End state

material is reddish and transparent when cured

Working life

25 to 100 minutes

Density

(at room temperature) approx. 1.05 g/cm³
Description
Hazard warnings
U1404 is an extremely elastic polyurethane resin with excellent mechanical attributes that can be used to reproduce soft elastic moulded pieces (e.g. rubber handles) as well as to make moulds of very intricate master forms. The U1404 resin can be mixed using two different hardeners. Variable elastomers with different working life values, curing times, Shore Hardness and mechanical attributes can be produced by adjusting and changing the mixing ratios of the resin and the hardener(s). The individual mixing ratios can be found in the table below.
Regardless of the mixing ratio, poured block moulds made out of U1404 can, as a consequence of their transparency, be carefully cut into without damaging the master form which is not hidden by opacity. In the case of subsequent reproductions, the fact that the mould is transparent allows you to monitor the pouring process by looking through the mould whereby you will be able to better avoid developing bubbles.
In contrast to other polyurethanes, U1404 is less sensitive to moisture and should be worked with at room temperatures of at least 20 °C. If the material is to be coloured, the dye should be added to the less moisture sensitive hardener component before it is mixed with the resin component. As with silicone, care must be taken, when stirring and mixing, that as few bubbles as possible are created so as to assure an accurate mould.
We recommend that the casting moulds, which will have been already treated with a release agent, be tempered to a temperature of 20 °C to 25 °C before pouring the U1404. This PUR resin should not be poured into moulds made from condensation cured silicone.
When using U1404 as a mould material, a release agent must, without exception, be used. In addition, care should be taken that the heat from the typical PUR reaction and the measure of isocyanate it contains does not damage the master form. The cured elastomer does not attain its final mechanical properties until after 4 days time at room temperature. Before that much time has elapsed, moulds made from U1404 should not be used at all or even treated with a release agent. In comparison with similarly priced silicone, moulds made with the U1404 and used for serial production have a decidedly longer service life when an aggressive medium is used in the reproduction process (approximately 80 to 100 moulded pieces instead of the 20 to 25 in the case of the silicone mould).
Resin U1404 with the hardeners U1404 und U1419 L
Resin/Hardener

Mixing Ratio (parts per weight)
Resin U1404
80
100
100
100
100
Hardener U1404
100
54
32
10
0
Hardener U1419 L
0
6
8
10
11
Treatment
 
 
 
 
 
Working Life (at room temp.)
25 min
60 min
90 min
100 min
100 min
Curing Time (at room temp.)
3-5 days
5-7 days
5-7 days
5-7 days
5-7 days
Elastomer Attributes
 
 
 
 
 
Shore Hardness
40 Sh-A
47 Sh-A
60 Sh-A
74 Sh-A
80 Sh-A
Elongation at Tear
> 600 %
1000 %
1000%
1000%
800%
Tensile Strength
4 N/mm²
3 N/mm²
5 N/mm²
6 N/mm²
16 N/mm²
Tear Propagation Strength
7 N/mm
12 N/mm
16 N/mm
25 N/mm
40 N/mm
Danger, Aromatisches Polyisocyanatnat Polymer >= 50 - <= 100, (VOC-Gehalt = 0,0 %), Diethylmethylbenzoldiamin >= 3 - < 5, (VOC-Gehalt = 0,05 %), Augenreizung, Kategorie 2, Sensibilisierung durch Einatmen, Kategorie 1, Sensibilisierung durch Hautkontakt, Kategorie 1, Chronische aquatische Toxizität, Kategorie 2
Hazard warnings
H317: May cause an allergic skin reaction.
H319: Causes serious eye irritation.
H334: May cause allergy or asthma symptoms or breathing difficulties if inhaled.
H411: Toxic to aquatic life with long lasting effects.
Safety instructions
P261: Avoid breathing dust / fume / gas / mist / vapours / spray.
P280: Wear protective gloves / protective clothing / eye protection / face protection.
P284: [In case of inadequate ventilation] wear respiratory protection.
P304+P340: IF INHALED: Remove person to fresh air and keep comfortable for breathing.
P333+P313: If skin irritation or rash occurs: Get medical advice / attention.
P342+P311: If experiencing respiratory symptoms: Call a POISON CENTER / doctor / …
P273: Avoid release to the environment.
P391: Collect spillage.
P501: Dispose of contents / container to …
Downloads
PUR casting/moulding resin U1404
5 Variants
Note
Most polyester casting resins are inflammable and hazardous to your health and the environment. Please take note of the dangers and the safety information on the package and the information titled "Safety at the Workplace" found under "General Information about "Polyurethane" and "Casting Resins".

Please note that we can only ship large quantities of this article per forwarding agency which means that there are higher shipping and handling costs.

The product consists of two components (resin and hardener)!