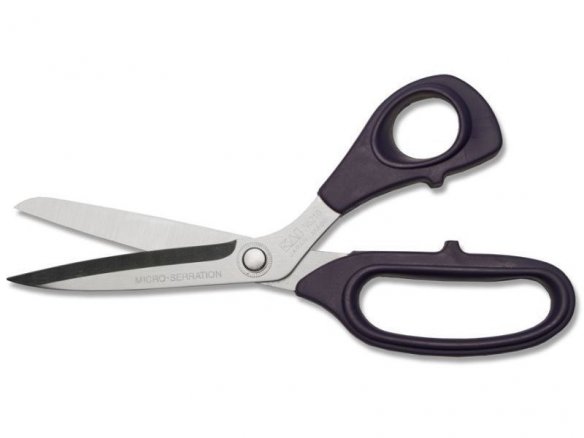 hardened stainless steel AUS6A (hardness 56 HRC – Rockwell hardess scale C), satin finish, rust-free, brass set screw for setting the tension, handle is made of vanadium steel and a soft covering
The scissors from the traditional Japanese company KAI are sold in Germany by the Prym company and are considered to be the best in the world. The scissors in the 5000 series that we carry were especially developed for professional use and are distinguished by their high degree of precision and a sure cutting action all the way to the tip. Its high-quality carbon steel guarantees a long service life for the blade.
The micro serrated edge on this scissors prevents it from shifting or slipping when cutting difficult materials like silk or synthetic fibres.
Prym Xact Professional tailor´s shears, 8'' (210 mm), with micro-serration (611508)