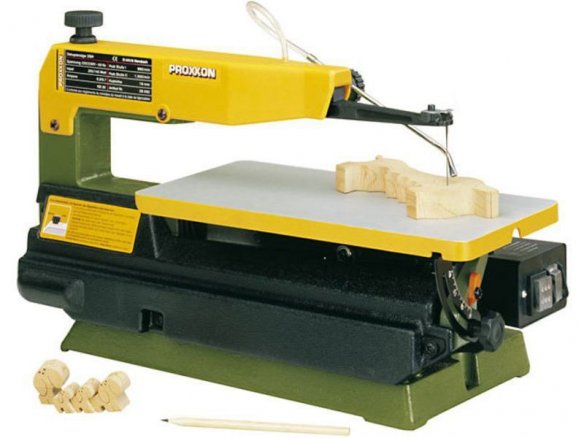 machine base of cast iron with rubber feet; very large, stable die-cast aluminium saw table of 360 x 280 mm (tilts up to 45° for mitre cuts); quiet induction motor with switchable speed control, 2 slender parallel swinging saw arms of die-cast aluminium with ball-bearing direct drive, free moving blade chucks, quick release lever, rotary knob for basic adjustment of saw blade tension, air blower with adjustable nozzle, discharge canal on the side with connection piece and adapter for vacuum cleaner, for standard commercial saw blades (with or without pin ends) l = 125-130 mm operating voltage: 220-240 V strokes per minute: switchable from 900 to 1400 per minute rating: 145/205 W maximum cutting height: 50 mm (25 mm at 45°) throat capacity: 400 mm stroke length: constant 19 mm (even under load) overall size: approx. 530 x 280 x 330 mm (L x B x H) weight: approx. 20 kg accessories with delivery: 5 each course and fine blades and T Allen key
Using the scroll saw DSH allows you to make all the fine, non-right angled cuts you may require in a clean and vertical manner. It is great for working with soft and hard woods, plastic, GRP and NF metals as well as with softer materials like foam rubber, rubber, leather or cork. It is most often used in the realms of architectural and furniture model making, the production of toys (e.g. puzzles), mould making as well as other precision and cabinet making work. The chance of injury when working with this saw is very small - for this reason it is a good choice for use in schools or learning workshops.
The saw performs very respectably and is very quiet in the process - there is only a small amount of hum. Unlike its predecessor, it has an electronically regulated stroke rate which allows you to better adjust the speed to the material being cut and this obviously improves the overall performance.
The slender saw arm gives you an unhindered view towards the back while the adjustable air nozzle keeps the workpiece free of dust. All the different saw blades (fine, round, normal, course, FRET AND SCROLL SAW BLADES) can be easily changed.
The DSH does not come with a lengthwise guide in recognition of the fact that working with a workpiece that is set is problematic with a scroll saw (the blade will tend to move away from the reference line). A hold-down is also not supplied because the necessary feel when feeding the workpiece would be lost. Proxxon recommends instead that you use both hands to press the workpiece forwards from above so that it will not tend to jump away.
Tip: when cutting very hard workpieces (e.g. steel) the blade will tend to wear away relatively quickly. In order to utilize the upper teeth of a blade you should raise up the work area by simply affixing a wood panel the size of the table using double-sided adhesive tape.
| | | | | |
| --- | --- | --- | --- | --- |
| Material | Soft Wood | Hard Wood | Plastic | NE-Metal |
| Thickness | up to 50 mm | up to 40 mm | up to 30 mm | up to 10 mm |
Maximum thickness that can be cut with the scroll saw (as given by the manufacturer)
Proxxon scroll saw DSH, incl. accessories (28092)
Note
The machine should be set up and ideally screwed down to a place that is as flat as possible as well as solid and vibration-free. An unstable surface can diminish the precision of the cutting and the general performance overall.