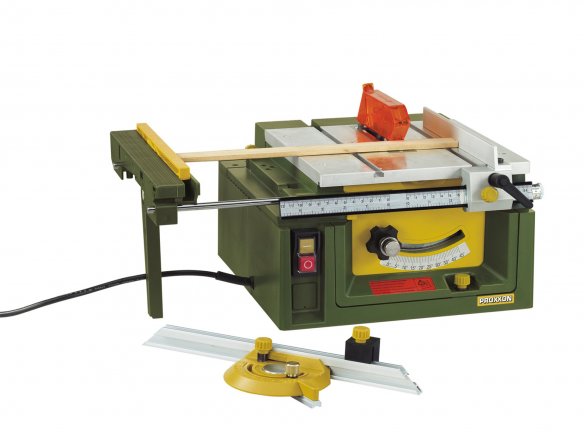 plastic housing with the load-bearing parts made of die-cast aluminium, machined die-cast aluminium worktop, extension wing pulls out from the side to 510 mm, saw blade is adjustable for height (1 - 22 mm) and rotation (90° - 45°), regulating screw for precise adjustment of the longitudinal stop, quiet performance by special DC motor, Optibelt toothed belt, saw blade spindle runs in ball bearings, collar for saw blades ø 50 - 85 mm with bore hole ø 10 mm, includes adapter for attaching a vacuum cleaner power supply: 220 -240 V revolutions per minute: 7000 rpm output: 200 W cutting depth: 1 - 22 mm (saw blade totally retractable) overall size: approx. 300 x 300 x 175 mm (without pull-out wing) weight: 6.0 kg accessories included with delivery: hard alloy tipped saw blade with 24 teeth, ø 80 mm, th = 1.6 mm, for wood and NF metal parallel guide rail graduated mitre gauge Allens key
The Proxxon circular table saw FET is great for making precise, straight cuts in wood, NF metals, plastic, rubber, cardboard and many other types of material. Even the smallest of workpieces can be cut to shape without any further reworking. The precisely adjustable and sturdy longitudinal stop is the source of many decisively advantageous features: after a rough setting, measurements can be finely adjusted to an accuracy of less than one-tenth mm. There is a vacuum connector provided in the housing where a vacuum cleaner can be attached to insure clean working conditions.
Because the motor is encased for security reasons, it can tend to overheat when run for a long time. This means that you should give it a rest every once in a while! This circular saw does have an electronic safety fuse to protect it against capacity overload. If the material is too hard or the workpiece becomes jammed, the amount of electricity will be reduced to a minimum by the electronic safety fuse. Only when the blade can again turn freely will the motor return to normal speed.
Proxxon fine cut circular table saw FET, incl. accessories (27070)