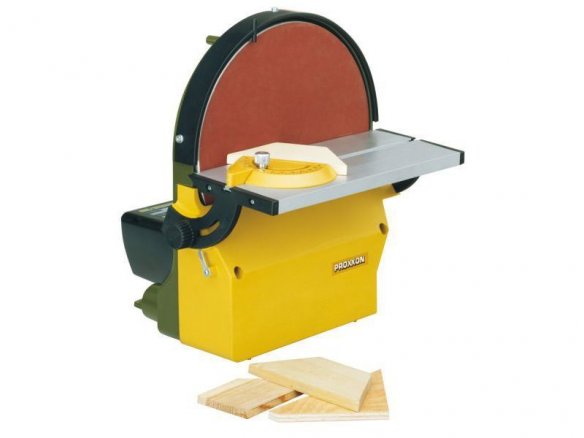 main housing is ribbed die-cast aluminium, table ( 275 x 105 mm) has slot for mitre gauge and tilts inwards up to 45° and outwards up to 15°, backing disc accepts self-adhesive sanding discs ø 250 mm and is driven by a twin ball bearing spindle, front side is machined smooth with diamond cutters, driven by Optibelt toothed belt (reduction 7.3:1), electronic speed control, equipped with vacuum cleaner adapter operating voltage: 230 V sanding speed: electronically controlled 250 - 750 rpm maximum sanding height: 135 mm overall size: approx. 330 x 280 x 230 mm (without table) accessories included with delivery mitre guage and 2 each sanding discs of 80 grit and 240 grit
The Proxxon disc sander is used to smooth long edges, ordinary end sections, radii, miters or flat surfaces at right angles. It can be used on hard woods, soft woods, NF metals, steel, plastic, cork or rubber.
The self-cleaning sanding discs stick extremely well but can still be removed easily. If the discs stick too much they can be easily removed with the help of a hair dryer.
Proxxon disc sander TG 250/E, incl. accessories (28060)